Con-Serv has developed a clever little product that protects homes and businesses from flood damage caused by defective hoses.
Flexible stainless steel hoses are one of the most common materials used to connect plumbing fixtures such as tapware and toilet cisterns to the mains water supply. Despite their robust construction and ease of installation, they do have a finite lifespan which, a lot of the time, is found out the hard and expensive way.
This lifespan can be greatly reduced during the installation process by stretching or kinking of the hose while exposure to cleaning solutions and other contaminants can also impact the longevity of the product once installed.
The nature and general positioning of flexible connectors (under sinks and basins) is typically an install and forget. Unfortunately when an unattended product failure occurs, the consequential damage can be thousands of litres of water lost and catastrophic damage to floors, walls and other fixtures. Then there's the inconvenience of dealing with insurance companies, potentially moving out for a few weeks and replacing all of the damaged goods.
Thankfully a product exists that ensures this nightmare does not become reality.
The Con-Serv 1/2" F&M, DR brass Watermark approved Whisper Flood Stop Isolating Valve offers a practical, low cost safeguard to ensure that should a flexible connector burst, the damage is minimal.
"The valve limits water leakage to less than half a cup of water, which, when you consider that water through an unregulated half inch pipe flows between 20-25L per minute, is incredibly minimal," Technical Product Advisor Con-Serv Ian Carmody says.
"If your client goes away on a Friday afternoon and comes back on a Sunday and a hose burst occurred just after they left, that's 48 hours of water flowing at 20L per minute. If you do the maths, that's 56,000 of water."
Tested by the Queensland Testing Laboratories to the Australia Technical Standards 5200.476 (Report No. 15078 3922). The BV 120 Whisper Flood Stop Isolating Valve offers an integrated ball valve to conveniently isolate the damaged hose should a failure occur. The ball valve also assists with tapware maintenance. An inline gauze filter is also supplied to ensure that contaminants in the water supply cannot impede performance of the Flood Stop function.
If a hose failure occurs and the Flood Stop Valve is activated, a simple flat bladed screw driver is all that is required to reset the valve.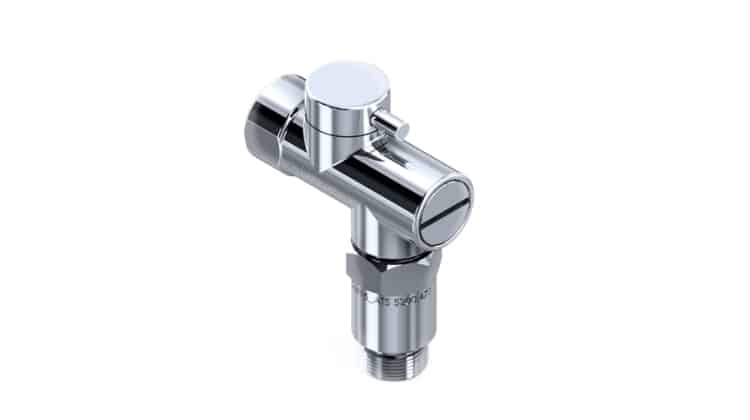 "Our target market is predominantly multi-storey buildings because that's where the greatest amount of flood damage can occur, particularly in unit and office developments. That's not to say stand alone residential properties don't benefit from the Whisper Flood Stop Isolating Valve though. A hose burst in the toilet would flood the whole house. Home owners would then be left to replace carpets, floorboards and electrical goods. That could take weeks or even months to fix everything. And it's not so much the issue of whether you have insurance or not, it's the inconvenience of the time taken to rectify everything."
With water saving nowadays being a priority the BV 120 has an extra feature that guards against any outlet using an excessive amount of water. Should the flow rate of any fixture that the BV 120 is attached to exceed 11 litres per minute, the Flood Stop Isolating Valve will activate, requiring the inline flow regulator or tap aerator flow control to be replaced and the valve reset before the water flow will start again.
Con-serv has a ten million dollar product assurance warranty, meaning that if a Whisper Flood Stop Isolating Valve has been installed, and a flood occurs at the point of installation, it will cover your client up to ten million dollars to cover the damage.
With that in mind, it's pretty easy to see how strongly Con-Serv stand by their product.
COMPETITION
When it comes to burst hoses, almost everyone has a horror story of it happening to them or someone they know. If you have a horror story (and pictures) that you are willing to share with the rest of the plumbing community, please send them to mail@con-serv.com.au  Con-Serv is offering a $500 gift voucher to the one it thinks is best. Entries close  31/03/16.