A Melbourne-based company has developed a water diversion valve that's ticking all the right boxes in the rainwater harvesting field. Justin Felix reports.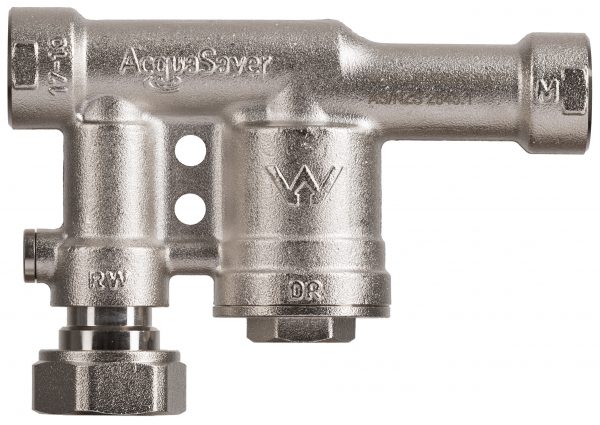 Reductions in household expenditure on water, fewer management and infrastructure costs, and decreasing stormwater runoff are all well publicised benefits of rainwater harvesting. And with the lack of rain in recent times, there's possibly never been a better time to ensure we conserve all the precious water we can.
In order for that to be effective though, reliable systems need to be in place. And a Melbourne-based, family owned company has developed a piece of the puzzle that is cementing its place beside water tanks all over the country.
Beltrami Group's AcquaSaver valve is a fully automatic mechanical rainwater/mains water changeover device designed for pressure pump supply systems for harvesting rainwater that can be used in toilets, laundries and household applications with automatic mains backup.
Beltrami Group was founded back in 1957 with its roots being laid in garden taps and fittings.
"My dad started the company as a foundry. We used to make a lot of tapware that isn't very common anymore. It was when houses were a lot simpler," Beltrami Group general manager David Beltrami says.
"We were fairly big in manufacturing. We melted a lot of brass and had several different processes in place. He passed away in 2002 and my brothers and I changed in response to a shift in the market. The cheap imported fittings were too hard to compete with. We couldn't even buy our raw materials for what they were selling the complete product for."
David and his brothers decided it was time to head in a new direction and concentrate on products for the future.
They came up with the hydraulic concept for Acquasaver.
"We developed the product and patented the design. The original model has been in the market since 2010/11 and this year it's been superseded by another model. Functionality-wise it's the same, just with a slightly tweaked configuration. It's a more user-friendly design with less parts hanging off it. We're always looking to make improvements where we can," says David.
As David explains, the idea behind the product is a fairly simple one, yet it's both reliable and exceeds the requirements of households that have a rainwater tank.
"If your client has a rainwater tank and they want to flush their toilet, they'd prefer to flush their toilet with the rainwater tank, rather than their mains, but eventually they're going to run out of rainwater. They still need water in their toilet though.
"With that in mind, the AcquaSaver seamlessly switches over from tank to mains, or vice versa, without them even knowing. When the water comes back into the tank, it will pump it back up again and shut the mains off. If there's no rainwater or power to the pump, it automatically switches to the mains so your client will always have rainwater to their toilet, washing machine, or whatever else they need it for."
The body of the AcquaSaver is forged and fully machined in Italy while the check valves come from Germany before being fully assembled and tested in Melbourne. That includes each individual valve. And, as David explains, quality and safety are at the core of the product.
"To ensure backflow isn't an issue we build in a dual check valve. The difference between our product and some of the others is that our dual check valve isn't the only component that stops the water from backflowing. It's just a back up. If everything else fails, we know the valves won't. Other companies use it as their primary source of backflow prevention. Perhaps it's an area where the Standard needs to be rewritten.
Rather than piece together individually WaterMarked products to build their product, Beltrami Group has invested money to ensure AcquaSaver meets WMTS-477:2016 Rainwater/mains supply changeover devices.
"During the process our product was scrutinised quite heavily. It had to go through a 50,000 cycle test which probably simulates 100 years or more of working time. That gives you a good indication of its reliability."
The reliability of the product has not gone unnoticed.
David explains that the company is kicking goals all over the country at the moment, with a particularly high demand coming from New South Wales.
"In the rainwater harvesting market the product is really well-known. While extremely unfortunate for the farmers and the environment, the drought has helped us to grow.
It's well sought after in NSW because rainwater tanks play a part in residential dwellings meeting the Building Sustainability Index (BASIX) which aims to deliver equitable, effective water and greenhouse gas reductions across the state.
So in the case of NSW, demand for AcquaSaver is driven by regulation, whereas in other states it's a mix of a desire to save money and environmental factors. And the future of our environment is something David and his team is passionate about.
"Flushing rainwater and letting it go into storm water and into rivers and streams creates pollution. If we can capture some of that, it can really help with the environment.
"There are so many impervious surfaces now, especially with a growing population requiring the likes of more roads. Asphalt can't absorb water, and eventually the stormwater runs into creeks and rivers, which in turn end up in the ocean. The thing to remember is that the water isn't clean by the time it reaches these water sources. It's full of pollution.
"If everyone were to put a rainwater tank in, we'd capture millions of litres of water that would otherwise end up in our rivers and oceans. On top of that, we're using drinking water to flush our toilets, which, when you think about it, is a bit ridiculous," says David.
The valve is easy to install and can be retrofitted to existing systems should it be required where another valve has failed. AcquaSaver is available at all major merchants and pump retailers and can be found packaged with a range of pump brands around the country.