Dux gets smart with solar
Dux Ecosmart solar aims to reduce your client's carbon footprint and reduce growing energy bills. Ecosmart solar water heaters incorporate the latest European solar technology to capture the sun's energy. It heats water in roof mounted, high performance solar collectors, which is pumped into a highly insulated, Australian made solar tank, ready to use when required.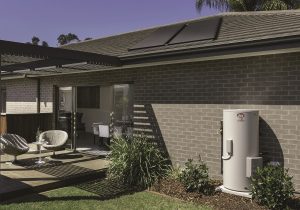 Larger tanks allow more opportunity to store more 'solar' heated water, which maximises energy saving potential. Dux Ecosmart models are available in 250L, 315L and 400L tank capacities to suit a variety of home sizes. Now featuring commercial grade enamel and a thicker 27mm anode, the solar tanks come backed by a 7-year tank warranty1, 2 years longer than the previous generation.
Models are available with either electric or gas boosting, ensuring hot water is available on cloudy days or in times of high demand. Electric boosted models have a mid-mounted element that heats a portion of the tank in low solar gain conditions. This can be connected to an off-peak electricity tariff for even lower running costs.
Gas boosted models come with a remote mounted, 26L/min, 6 star energy efficient continuous flow. The system senses the temperature of the water passing through it and only turns on to heat the water to a suitable temperature if needed. With only 'pre-heated' solar water in the tank, gas boosted solar is incredibly economical to run, whilst providing you with a steady hot water supply that will never run out.
1Full warranty terms and conditions are available online.