Copper Regulations Made Easy
Plumbing may be dealing with lots of new codes, standards and trends, but at least with copper there's some quick ways to stay ahead says John Fennell.
There's a lot of information coming at plumbers these days and staying on top of it all isn't easy. I should know because I, and my partners in the copper industry, am partly responsible for at least some of the new material that keeps appearing each month.
In our defence I have to say it's all designed to help plumbers stay on top. Alongside the rapidly changing building sector – and all its evolving regulations and standards – there's fast changing technology, new consumer trends and most importantly, smarter copper plumbing systems having a big impact on even the smallest domestic job. This is why, in the last couple of years, we've developed and uploaded (online) a whole series of booklets and guides that provide a one-stop copper plumbing shop, including:
The Plumbers Handbook www.copper.com.au/copper/wcms/en/home/plumbing/publications/Plumbers_Handbook.html
An Introduction to Professional Plumbing Skills www.copper.com.au/copper/wcms/en/home/plumbing/publications/Plumber_Training_Manual.html
Water Hammer Handbook www.copper.com.au/copper/wcms/en/home/plumbing/publications/5420_04-waterHammer-Revised-web.pdf
Barrie Smith's Selection and Sizing of Copper Tubes for Water Piping Systems available at: www.plumbing.org.au/shop/
Paul Funnell's Pipe Sizing for Building Services available at: www.cavsoft.com/index.php?page=shop
ONE GUIDE FITS ALL
While informative, none of the above have required the effort that went into the recently launched Hydraulic Services Design Guide developed by us at the International Copper Association Australia (ICAA) with the support of MM Kembla, Crane Copper Tube and the Association of Hydraulic Services Consultants Australia.
The comprehensive Hydraulic Services Design Guide has everything to keep the modern plumber using copper up to speed, — an online resource that will be reviewed and updated each year to make sure designers, contractors and students have the absolute latest reference material in the palm of their hand (especially if using  the smartphone app).
While it covers every aspect of contemporary copper plumbing, there are some chapters in particular that are really worth noting, and one of the most important is the one showing how big recycling is to copper's reputation and future.
Copper requirements are increasingly being met by reusing older material. This win-win situation is helping to supply our ever-increasing demand for the metal (+250% since the 1960s) while at the same time, lessening the environmental impact of its production and ensuring its availability for generations to come. The diagram below shows where and how copper is recycled.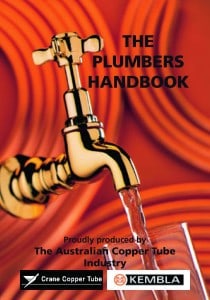 The guide also makes it abundantly clear that there are some clear benefits to using copper tube and some of the most obvious are:
Reliable and time proven: Copper has been conveying water for thousands of years. The first known installation was laid in an ancient Egyptian temple, almost 5000 years ago.
High resistance: It can withstand extremely high and low temperatures as well as pressures and it can be exposed to the UV rays, temperature and oxygen of outside environments.
Versatile: Copper tube is used in many services: drinking water, heating (domestic and radiant), gas, medical gases, solar energy systems, fire sprinklers, air conditioning systems. It meets the requirements of safety in an unmatched, wide range of temperatures and pressures.
Energy saving: Thanks to its excellent thermal conductivity, copper is the best material to exchange heat (or cold fluids). That's why the most efficient radiant hydronic heating have circuits in copper tube.
Hygienic: Copper is an excellent tube material for installations as it combats build up of germs and bacteria, like legionella.
Recyclable: In cases of demolition or renovation, copper tube can be 100% recycled without loss of performance; so, the volume of waste at landfill is not increased and the mine resources are not further exploited.
Healthy: The tube is made of 99.9% copper, and the composition will not change in time; no additives, volatile organic compounds or pigments are inside it. Beyond that, it is the material of choice for transport of medical gases – like pure oxygen – in hospitals.
Beautiful: Copper tube can be fitted on the outside of a wall and, thanks to its attractive look, can even be exploited to make beautiful wall radiators.FUTURE CHANGES TO STANDARDS
Standards and the National Construction Code govern the requirements and specification of most plumbing aspects, and as I said at the start; these are continually being revised and improved.
It's important that everyone in the industry is aware of these changes and some of the emerging topics that are currently being discussed and that will be of interest to all in the future are:
Clarification and recommendation for the design velocity of hot and cold water.
Improvements in the insulation requirements for hot water piping to provide better thermal efficiency.
Regulation of the temperature of hot water from all outlets to prevent scalding. Planned for 45ºC maximum for child care, health and aged care facilities.