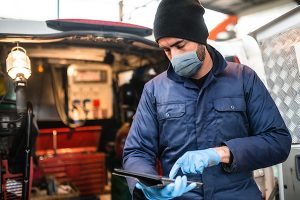 Fergus job management software for trades and service businesses founder Dan Pollard shares three key tips to help get you and your business through the pandemic…
This is certainly a challenging time between the global pandemic and recession. Most plumbers are seeing cautious spending from customers, but also people are keen to save money on water expenses.
Plumbers and businesses that double down on their customer service are the ones who weather the storm the best. The downturn is also a time to focus on improving your business operations, catching up on admin, chasing payments and even training.
Focus on the customer
One very simple act that holds tradies back from winning new business is not answering the phone. It sounds so simple, but from my own experience, when I get recommendations for any trades professional, I call them wanting to spend money and they just don't answer. This loses plumbers and tradespeople valuable jobs as customers go elsewhere.
Similarly, when plumbers visit a site to analyse the job and don't follow up with a quote, that's wasting valuable time as the customer will likely go with the most proactive company.
Due to COVID-19, there are some other practices, such as remote quoting, that can help when customers aren't comfortable allowing multiple tradespeople into their homes. If your customer service is the best then you will be the plumber winning business.
Each state has different COVID-19 requirements and training, such as NSW COVID-safe business certificates, which can be gained to help increase safety measures and customer confidence.
With the trust barrier for allowing strangers into the home at an all-time high, you need to be sure that prospective customers know you're taking the right health and safety precautions at all times.
Ensure you're not shaking people's hands when visiting sites, wear a mask, use hand sanitiser and follow strict social distancing rules. You should also keep a record of who is on site at what time. Fergus has a contact tracing forms function to help business owners with this in addition to a health and safety on-site checklist.
Creating opportunities
During a recession, everyone will be looking to win more recurring maintenance business. However, using this opportunity to specialise in more niche areas and diversifying is a good idea if you want to be more savvy.
The area of water conservation is a ripe one as there are many ways to conserve water on a house, from rain harvesting to switching people's hot water pipes to smaller diameters, meaning they waste less water and it costs less to heat. If three or four litres of water is coming out before the tap runs hot, customers are paying to waste water.
Calculating these heating and water waste costs can help educate customers to get things amended, they will soon make the money back with lower bills. For example, I once replaced some shower heads for a hostel and it saved them thousands of dollars on their bill as they used less water.
Many plumbers will be using the downturn to organise their accounts and adopt new processes to improve their business. We know this as we have had a record amount of views on our Tradehub webinars.
Some of the subjects include going paperless, how to calculate chargeable hours, recession-proofing your trades businesses and how to keep your trades business running throughout stage three and four lockdowns in Melbourne. Using this time to retool means you are improving the way you do business not just now but moving forward.
You can also create opportunities by increasing your online presence. Many tradies set up websites, social media pages and also upload their companies to popular job sites. Even the simple things like setting up the company on Google My Business so they can be found by people searching online, can dramatically increase the amount of new business potential.
Things like customer reviews, images and basic information about your services really help customers feel reassured and informed, making them more likely to choose your business.
Offer value
The best thing plumbers can do to improve customer experience is make it easy for people to do business with them.
Plumbing services, maintenance and repair, are often seen as a grudge purchase. A great way to make costs more palatable is to offer payment plans and packages. When clients think one small job will cost them a huge lump sum, they are less likely to get it fixed, but if a plumber explains to them that they can get multiple things fixed around the house for a package fee and pay in installments, they are much more likely to go ahead with it.
Taking a customer first approach is the key to a successful plumbing business. It starts by really listening to your customer to get a full picture of their problem. For example, you get a call about a leaking kitchen faucet, but after speaking with the customer further you realise they were motivated to fix it in an effort to conserve water. This then gives you an opportunity to show you can do more than just fix the leak and offer other services as a package.
It's important you understand the customer's budget, timeline and expectations around quality of materials used so you can present them with the right options. Show your value and help get them across the line, by also telling them about the money they can save on their bills.
Ultimately though, it's delivering outstanding outcomes for customers that will win you repeat business and referrals.
While the pandemic is a stressful time for many, you can use any downtime to improve the way you do business, chase payments and create a new pipeline of customers.
This story first appeared in the Summer 2020 issue of Plumbing Connection.
Visit www.fergus.com or click HERE for more information.