With a vision to expand its reach and training capabilities, two new Plumbing Industry Climate Action Centres are on their way to Victoria. Justin Felix caught up with chief executive officer Shayne La Combre to find out what has been planned for the two sites.
For a number of years now, the Plumbing Industry Climate Action Centre (PICAC) in Brunswick, Victoria, has been providing integrated education and training programs in advanced areas of plumbing and gasfitting.
PICAC's facilities are second to none and include the Fire Protection Centre of Excellence, the Occupational Health and Safety Centre of Excellence, a demonstration Green Plumbing House, world class reticulated water systems, the newest technology in water and energy efficiency. By its own admission, showcasing the world's very best, leading edge technology means PICAC is training the plumbers of tomorrow, today.
Such has been the success of PICAC in Brunswick, Victoria, that in November 2014 the Andrews Government announced they would look to support the development of two new PICACs in Geelong and Narre Warren in Melbourne's southeast. With the Geelong building now erect and at the fit out stage, we were keen to learn more about the space, the type of training on offer and the scope, if any, for collaboration with local TAFEs.
"The construction itself is completed and is now at the fit out phase. We estimate that we'll be delivering training in Geelong by mid-late this year," chief executive officer Shayne La Combre says.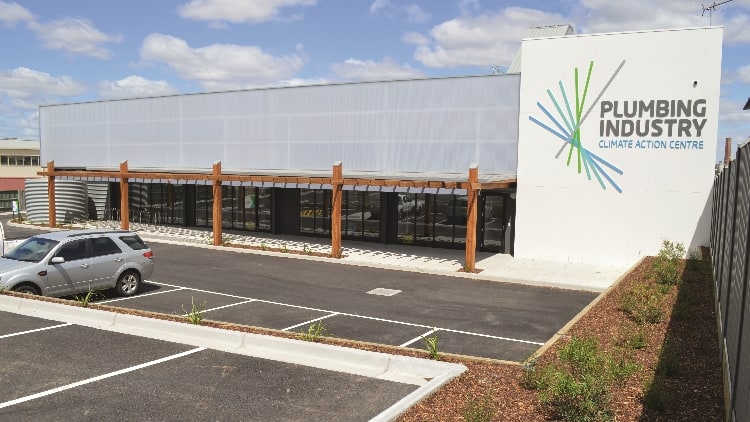 Many lessons have been learnt while delivering training at Brunswick which helped to shape the design process and space requirements at the new building.
"One of our key learnings since we started is to create teaching spaces that are as flexible as possible. By definition we are a narrow specialist institute – narrow in the sense that we really only focus on plumbing – but having said that, plumbing is such a broad sphere; it includes everything from drainage, with its below ground earthworks, through to high end complex gas fitting with its serious risks. There's a wide array of specialisations in this industry and you can spend a lot of time and money equipping large dedicated areas only to have them sit unused for 85% of the time."
Shayne acknowledges that much of PICACs learning's have come via its relationship with the US and watching how they instruct in schools that are far bigger than PICAC, while solely dedicated to plumbing, there is a very effective use of flexible learning modules and trucks to get training and education to where it is needed.
In some quarters there has been a perception that PICAC came to fruition in order to compete with TAFEs and Shayne was quick to dismiss any thinking of that sort.
"That's completely wrong. At the end of the day we are the industry, a collaboration of all the key plumbing organisations across Australia (Master Plumbers, Plumbers Union, NFIA, AMCA) so anything that happens in the industry, in terms of where participant development heads, is no more vital to anyone than us.
"As soon as students finish their training, whether a 16 week or three year course, they head into our industry. Nobody is more concerned about the competency of individuals being trained in plumbing than the industry itself.
"We're not naive enough to think that we can be all things to all people and partnering with those who have specific skills and abilities, such as TAFE, makes perfect sense to us. The mistake is to think we have any other interest other than trying to develop individuals to the highest possible level we can, per minute and dollar of training investment. The better our return for that, the better off our industry will be, irrespective of where its sourced from" Shayne says.
As part of the planning process for the Geelong site, PICAC has been engaging in meetings with The Gordon Institute of TAFE in Geelong, regarding how the two can complement one another once the centre is open.
"We are looking at ways we can bring specialist, high-tech training to students, whoever they are enrolled with. The volume stuff is obviously their bread and butter and something they're highly experienced in so we can benefit from that and bring some of that knowledge into our own environment. We would be looking to leverage off our specialisation in more niche areas such as rain water harvesting for example.
"While conducting research into the most appropriate areas to open a second centre, our Board was quite surprised by the number of people willing to travel to Geelong over Melbourne to further their studies and engage in training.
"We knew Geelong had its own critical mass to draw upon and not surprising was the fact that students west of there would travel in. What we were surprised to discover was the appeal of Geelong to those who lived east of it. Factors like traffic congestion and density combine to give the coastal city more appeal. People as far east as Hoppers Crossing expressed a preparedness to travel away from the city and if you've ever tried to get over the West Gate bridge during peak hour you can understand why. Perhaps the biggest surprise though was the interest shown from people as far around as Bendigo. As it turns out, the catchment into Geelong is a lot bigger than we expected."
As mentioned above, expansion beyond Geelong is already on the cards as Narre Warren has been earmarked for the next PICAC to be built and is currently in the design stage.
"The south east is a massive corridor," Shayne says. "Our site is located close to Fountain Gate shopping centre and the local train station. We have established a different concept altogether for Narre Warren though. We have partnered with IAPMO and are looking to establish a research hub there as well.
"One of the things we have found to be causing an issue for the industry is the extent to which we, as a country, are importing new technologies. There are quite a few barriers to doing that; even with a really good product. This area has had some serious deficiency for some time, with many of the resulting risks falling back on the plumber.
"Looking back to when we first started here at PICAC, uptake of products relating to solar hot water and grey water systems faced big hurdles. While the products and technology were good, there were significant competency gaps in the people who needed to install and maintain them. What we are looking to do in Narre Warren is fly close to a product certification operation to ensure we understand what is emerging and make sure industry training is sufficient and up-to-speed."
These two new PICACs will not only benefit those in the Geelong and south east regions but represent a big win for all in the industry as the continual development and advancement of skills generated at each will further inject a supply of needed tradespersons to support building activity across the country.