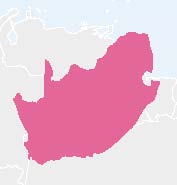 The South African ANC Government has reneged on its commitment to eradicate the bucket toilet system in formal settlements by the end of 2007.
President Thabo Mbeki had previously stated that all buckets in formal settlements would be replaced with toilets connected to piped water.
Thousands of households in post-apartheid (post-1994) formal settlements in the Eastern and Southern Capes will continue to use the bucket system for an indefinite period. Others in the Eastern Cape, however, are expected to have a viable replacement installed by March 2008.
A sum of US$221.8 million has been earmarked for bucket eradication and improved sanitation through 2008.
The government is now saying it will only address buckets in pre-1994 formal settlements, not post-1994 settlements, with the availability of piped water being the main reason toilets were not installed in most homes when first constructed.
Government officials in the Western Cape have conceded that there are still thousands of buckets in place in informal settlements.
Overall, more than 100,000 buckets still need to be removed, with a total of 150,000 already gone. Free State has the largest backlog with approximately 80,000 buckets left in place.