Blundstone Australia launches RotoFlex Range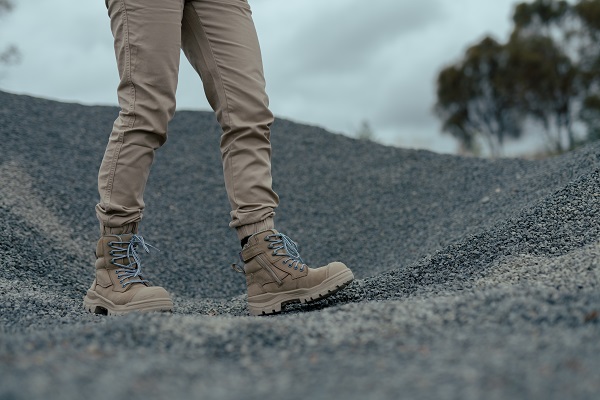 Global icon in innovative safety footwear, Blundstone launches its most dynamic range yet with the arrival of RotoFlex.
RotoFlex is an all-new, design-driven range of composite toe cap safety boots, developed using the latest biomechanical technology for optimum stability and flexibility. The RotoFlex range takes work boots to new heights and cements Blundstone's place as the market leader for safety footwear.
Crafted with years of research and development, the RotoFlex range provides a true suite of industrial composite boots that are fit for purpose across a wide range of industries for the hardworking men and women of Australia.
Created on new tooling and hardware, the RotoFlex range is full of safety and comfort features that provide innovative, evidence-based, detailed protection for the worker that wants strong yet flexible footwear.
"The RotoFlex boot system is unmatched in its combination of stability with the freedom to move. This is achieved through biomechanic expertise, using the science of human structure and function and applying it to the requirements of a modern Australian work boot," Blundstone global work & safety range manager Adrian Blandford says.
"The result is each component working together to create a new boot system that is safer, more comfortable, better performing and longer lasting. This is something the safety footwear market in Australia has been demanding for many years."
The biomechanics system central to the design of each boot can be broken down into four key elements: GripTek HD, Fortalite, Aircell and Softcell.
GripTek HD is Blundstone's all-new sole design, which provides all-day stability and comfort. The sole (with its unique tread pattern) is lightweight, durable and specifically crafted to make the RotoFlex boot suitable for hard surfaces and graded ground.
The Fortalite toe cap is for the worker who wants a boot that meets leading safety standards without compromising comfort, ease or unnecessary weight. Using innovative technology Fortalite provides compression-resistant safety by using a ground-breaking Polymer composite material that holds strong under immense pressure.
An AirCell footbed provides ultimate air flow and full-body comfort with every step. This is achieved with a specialised zoning design, where the footbed is uniquely constructed to activate ventilation, moisture control, and cushioning comfort as you walk and move.
Blundstone's unique fit system, SoftCell creates more room to move within a stable foothold. This is achieved through an expert understanding of the connection between a moving foot and the inside of a boot, providing a form-fitting and comfortably snug boot with space to move. The result is an unbeatable fit with unrivalled comfort.
An Australian first, the RotoFlex Range also features Infinergy. This E-TPU material is a super elastic energy foam from BASF which is soft but resilient—providing enhanced cushioning and reducing the impact of every step taken.