Bathroomware that speaks to the celebration of colour
The Allure basin range provides renovators with a gorgeous and diverse palette of pastel colours which speaks to the celebration of colour in a way that is playful and confident yet refined.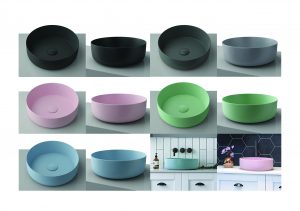 The Allure range is a nod to the emergent trend of pastel shade bathroomware – a styling decision that has grown in popularity in dress circle home renovation projects both locally and overseas.
This simply styled yet sophisticated basin in any selected shade is perfectly positioned to tell several style narratives depending on its pairing or positioning within the space and is set to become a must watch style range for spring 2019 interiors styling.
"Coloured basins are the path less travelled when it comes to spicing up a bathroom; most people opt for a vibrant wall or statement tiles. The Allure range lets you experiment with colour in ways far beyond the ordinary," says Beaumont Tiles strategic designer Christie Wood.
"When playing with colourful hues in the range, let the basin be the focal point with all other features being merely complementary.
"The Allure Basin works it's best magic on rectangular vanities, with its rounded figure ensuring your client gets the most out of their space while allowing that extra room to style with a favourite bathroom essentials – like a candle or a mini potted plant."
Size and finish
360 x 360 x 120mm, matt finish
Colours
Blue
Black
Grey
Mint
Pink
White