AHSCA announces roof drainage research project with USC has been successfully completed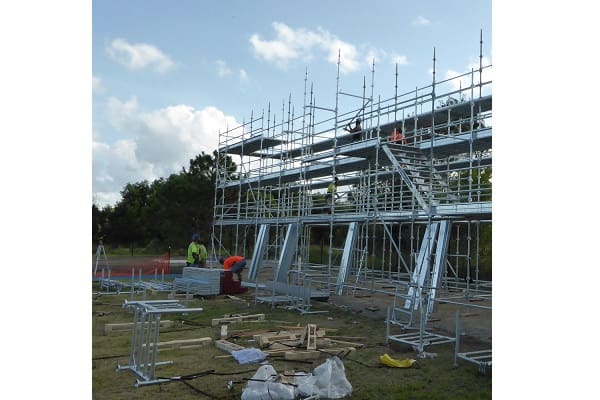 The Association of Hydraulic Services Consultants Australia (AHSCA) Research Foundation has announced its joint initiative with the University of Sunshine Coast (USC) is complete.
The AHSCA Research Foundation, which is a joint initiative between the Queensland, West Australian, South Australian and Victorian Chapters of the AHSCA, started construction on a test facility at the USC in 2015. It is now the world's largest roof drainage test rig and incorporates the design of lead researcher Dr Terry Lucke.
There are three working levels, adjustable gutter width, adjustable gutter gradient and the ability to adjust flow direction, either centrally or to a gutter end-flow configuration.
The facility provides the researchers with the opportunity to observe both positive and negative pressures (siphonic), with all associated components connected. These include gutter, sumps, pops and downpipes. This ability has enabled the researchers at USC to increase the flow rate in box gutters from a maximum of 16L/s to 100L/s.
The AHSCA Research Foundation says demonstrations at the rig made it obvious to members that the current sizing data incorporated in AS/NZS 3500.3 Plumbing and Drainage Part 3: Stormwater Drainage could not safely be extrapolated above 16L/s in many cases. Other demonstrations established significant over-design in the regulated Standard.
Many pressurised Water Authority distribution mains peak at flows of around 70L/s but flows in excess of this were generated by researchers in a roof drainage system by harnessing only self-generated system pressure.
During the past three years, many AHSCA members and guests toured the research facility, where they were shown a number of different overflow combinations. Simple demonstrations were presented where upstands around an outlet were shown to provide a significant increase in flow. Many of the trials of the outlets focused around simplicity items that can be installed on-site or with the minimum of pre-manufacture.
The Foundation says flow increases of up to 50% were achieved by simple outlet shape variables and the targeted location of outlets in relation to the gutter or sump. It was also demonstrated that significant flows could be achieved without the pressure generated by the installation of traditional sumps as mandated in AS/NZS 3500.3.
According to the Foundation, national and international research studies related to roof gutter drainage systems have generally tested each component in isolation. This means they were unable to observe the considerable hydraulic advantage that can be generated when all components are operating together.
Many design guides, such as AS/NZS 3500.3, assume that gutter depth is reduced with increased gutter gradient, however full-scale testing has revealed that this is quite often not the case.
Detailed testing has identified hydraulic jumps in the gutter flow that negate any theoretical hydraulic advantage gradient. This was published in the Journal of Building Engineering and the Foundation says it's one of the reasons that maximum flows in box gutters designed in accordance with AS/NZS 3500.3 should not be extrapolated beyond the nominated limit of 16L/s.
One of the Foundation's members undertook a preliminary desktop study related to a roof drainage system for a typical Bunnings Warehouse store located in Melbourne that was first designed in accordance with AS/NZS 3500.3. It was then re-designed using the technology developed by the AHSCA Research Foundation. It was found that the Foundation initiatives could save between $50,000 to $60,000 comprising of reduced sumps, downpipes, overflow, stormwater drainage (in-ground) and a reduction in junction pits.
The AHSCA Research Foundation technology is now being delivered to members to enable them to offer significant cost savings to the broader construction industry. The Foundation State Chapter members have already completed the stage one training courses, which have identified critical errors in AS/NZS 3500.3.
The Foundation says graduates of the stage one training course have qualified to use the recently developed online calculator for flows up to 16L/s and are encouraged to complete the stage two course. This will enable them to be trained and certified by the Foundation as Advance Roof Drainage modellers.
Future research projects will focus in more detail on the development of hybrid roof drainage systems where conventional systems transition to siphonic conditions, enabling dramatic flow increases.