A closer connection to jobs
Copper plumbing has a long pedigree, but its adapting to the 21st Century in surprising ways says John Fennell.
In 2012 MM Kembla released its copper press-fit connection system KemPress. It was a revolution for plumbers and the building industry.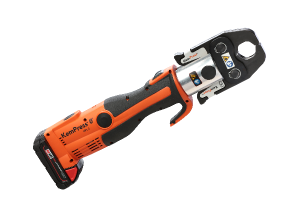 Press-fit systems in copper have meant quicker and cost effective installation practices, as well as safer work places by providing a flame free copper connection unlike traditional brazing methods.
It was ultimately the ability to reduce installation risk by continued copper innovation.
In fact copper plumbing is being re-imagined in all sorts of ways for the modern home. From clean energy and battery storage to network sensors and smart software to monitor the whole plumbing system, copper is getting a digital make over.
And technology is at the heart of MM Kembla's latest product launch, the KPL3.
The KPL3 is packed with innovative features that make life easier for installers and produce perfect press connections for copper installations up to DN100 and stainless steel installations up to 54mm.
Bluetooth connectivity
The battery powered hydraulic KPL3 press tool comes equipped with Bluetooth technology so your press tool can talk to your smart phone or tablet via the intuitive NovoCheck app available for Apple iOS and Android devices. Simply sync your device via the app and you can begin recording press data from your tool, create jobsite reports and perform pre-start checks of your tool to ensure it is fully calibrated and ready for the job ahead.
Improving job performance
The number of personnel on any job site can mean it is often harder to monitor the quality of installation and have information available to show an installation has been completed properly.
The KPL3 tool can generate site reports to show the number of presses as completed by the tool in any given period. The advantage of such a feature means not only can you check that all press fit connections your tool attempted went through a complete press cycle, but you can also check the number of presses completed.
In order to ensure you have pressed all fittings in a section of work, your site report can be compared to the number of presses that were required on that section of work. Missed pressing a fitting? You can now identify this easily and ensure the fitting is pressed prior to any pressure testing taking place.
Improved productivity
There can be significant costs to plumbing businesses during periods of inactivity or delay to a project due to lower than expected productivity. Through the KPL3 and NovoCheck app, productivity levels can be monitored with all tool activity logged and time stamped throughout the day.
Such data provides you with more clarity of productivity on site and the ability to influence and make positive changes to ensure your project is finished on time, every time without the fear of financial and reputation cost due to project delays.
A culture of better practice
The ability to monitor installation quality, job productivity and review and check your own work can ultimately lead to a job site that has better practice entrenched in its culture. With the advent of pre-start tool checks to ensure the tool is ready to work, analysis of the tools performance, usage and time until next service, better practices can be instilled within a business and job site.
Regular servicing of equipment can at times be hard to log and track, with the KPL3 tool, a pre-start check every morning will notify you of the due date of its next service to ensure tools are regularly serviced and calibrated.
MM Kembla offers a servicing and repair solution for all tools purchased, as well as a free loan tool whilst your tool is being serviced or repaired.