Convincing today's youth to enter the plumbing sector
It's an understatement to say it but we live in a competitive world, in virtually every way. Like it or not that includes putting a strong argument to today's youth to convince them to enter the plumbing sector, in preference to a host of other career options. Plumbing Connection reports.
The aim of this article is to serve as a wake-up call to the industry and not to expect industry hiring will proceed as normal in the coming years.
Just listen to any FM station on the way to work; there is a recurring theme of countless ads spruiking courses in massage therapy, audio engineering, aged care and the like, it seems like every second person is becoming a personal trainer or barista nowadays. An image further aided by the VET FEE-HELP scheme student loan scandal that has lined the pockets of white collar criminals.
The plumbing industry would be wise to face the reality of there being far more vocational options than ever for today's youth. Not only are vocational options increasing, other service industries are investing in pro-actively marketing themselves to youth. So for the plumbing industry to grow its apprentice base, it has to embrace the challenges of dynamically promoting itself to attract the best young people with the practical and intellectual capabilities needed. This will ensure a high industry standard is maintained and the ever-increasing demand for plumbers can be met.
Overall, the demand for plumbers is increasing due to economic growth and (baby-boomer) workers retiring at an ever increasing rate, however, national data suggests the amount of plumbers coming through the ranks appears to be either stagnant or decreasing.
This is despite the great selling points that are bandied about for a plumbing career. It generally pays well; there is an abundance of work in most areas, job security and transferable skills. Add to that the fact that plumbers can be their own boss before the age of 25.
For those interested in a more academic path, an initial 'on-the-tools' plumbing career could lead to opportunities in hydraulic systems design, environmental services, estimating, and project management, just to name a few options.
We decided to do a small survey to get a feel of where plumbing sits in the lives of students about to make some serious decisions about their future.
We selected the nearest college to our office, in a mortgage belt area of Melbourne.
And while this 'one class' survey doesn't pretend to be a fully representative sample, it did highlight some fundamental short comings of the industry.
We surveyed 22 year 10 students from Mazenod College, a Catholic boys school of 1,500 students based in Melbourne's south east. Although these students had been through a comprehensive and compulsory Year 8 class of wood/metal work and other hand skill introductions, not a single student surveyed was aware of the career pathways plumbing can lead to.
Yes, most group schemes and TAFE's can get applicants but the question that needs to be asked is this: 'Is the industry attracting and selecting from the best available pool of talent?'
Some businesses are feeling the strain of not having apprentices to hire, making it difficult to grow their business, accept bigger projects and meet demand.
NSW-based Network Plumbing head of apprentices Colin Dunn says usually the business takes on around seven apprentices a year but in recent years that has changed.
"We used to have heaps of young people coming in looking for apprenticeships, but this year and last, we've had none," he says.
"This is a great company with a good culture, excellent premises, work vehicles supplied – one of the best set-ups in Sydney, they should be kicking down the door. We've advertised widely for virtually no response."
Colin says other medium-sized plumbing contractors in the Northern Beaches area of Sydney are also experiencing the same problem. He believes part of the issue is geographical, observing that less affluent areas such as the Western suburbs are still experiencing a steady stream of apprentices coming though. The gentrified Northern Beaches is quite a hike across town from the West or South West in Sydney's chaotic traffic. But is that the only reason for a failing thirst for work?
The other point Colin questions is why from the thousands of kids coming through the Northern Beaches schools there is so little interest in a plumbing career. Many schools, parents and youth tend to see university acceptance as their metric for student success and following into a trade career can be seen as a failure to reach that (parental) goal.
At Mazenod College over 80% of surveyed students aimed to go to university. Only two students planned to do a TAFE course yet many students would find their niche in plumbing and other trade careers.
While it may be harder to get into university, trade qualifications lead to careers which often merit better outcomes in earning potential, employment rates and ultimately career satisfaction. Plumbing is a prime example of a tertiary career which has higher earning potential and employment rates than many university course based careers.
It is human nature to be competitive and this is especially true today with students going through the schooling system asking each other 'what university did you get into?', 'what degree are you doing?'
With diminishing numbers of overseas students, less recognised Universities are dropping their entrance levels to achieve budgeted student numbers – thus pushing even more kids into unproductive outcomes and away from the trades.
Our student survey showed today's youth has a narrow-minded view of the plumbing industry. Drawing associations of grubby clothes, old ute's, drain cleaners and bum cracks projecting from under the sink, not exactly a winning formulae. A stereo-typed image so often portrayed by TV news and reality shows.
Changing the perception of the industry may seem like a herculean task (as part of the industry keeps re-enforcing that) but the industry can take inspiration from companies that have managed to successfully shift public perception of their 'brand'. It's not impossible to do.
Remember when Old Spice was known to be the lotion of choice for grandad, never to be considered by the younger generation. A marketing campaign featuring a former NFL player popularised the product among youth and sent the company's bottom line soaring. Brands are not necessarily the same as an industry but getting the image and marketing right is a great start.
The plumbing industry could likewise re-image and market itself, to enhance its attraction as a career option. If success can be implied in a name, perhaps the industry needs to infer a better offering, to compete with a university education. How much of a societal shift would that create?
Our survey showed many students would be more inclined to choose plumbing as a career if it had a name such as 'plumbing engineer' or 'environmental consultant'.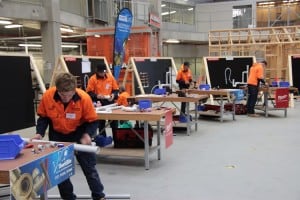 Here's a great example. The Master Plumbers Association (MPA) of NSW has proposed a new strategic approach to apprentice training in the form of a Cadetship in Plumbing Engineering. This promotes the fact that plumbing has a lot more depth, scope of knowledge and skills than simply connecting pipes and plumbing fittings. MPA NSW chief executive Paul Naylor says another beneficial strategy of the program would be the direct engagement of parents.
"The aim of the new strategy was to increase the expertise of apprentices, ensure that there are higher completion rates, an ability of addressing the behavioural issues currently demonstrated by school leavers and to ensure that graduates are job ready with high technical skills.
"We welcome parents in to discuss the course and career opportunities before any decisions are made," Paul says.
"Parental support will result in a much higher percentage of young people completing the pre-employment program and we can obviously learn quite a bit about the kids at the initial interview from the parents."
Careers Advisers Association of NSW/ACT spokesperson Jenine Smith agrees that it is crucially important to promote the industry to parents in order to attract more apprentices.
"Information can be gathered, open days and information sessions attended, careers advisers consulted, but research shows most students look to their parents for guidance in their decision-making on post school study options," she says.
"We found that even if a student is more suited to a trade career, due to parental and school philosophies, students are being steered towards university and more so with private school students.
"Employment rates and income are the two main things that will sell the industry but the challenge is still to provide parents with information on the wide scope of the industry and the value a plumbing career can bring for their children."
Jenine says families with no tradespeople often have trouble seeing the value in such a career, so it is good to promote VET classes that show young people and their parents the value trade careers can bring.
"As career advisors we endeavour to engage with students to identify what their strengths, learning abilities and interests are. Some students learn by reading, others learn by doing. Usually the ones that learn by doing are more inclined to trades.
"We go through that process in years 9 and 10 before they do their final subject selection; we encourage the students who learn by doing to enrol in VET subjects.
"Throughout this process we try to find the best fit for the student which closely aligns with their abilities, strengths and interests."
While the plumbing industry should be working on increasing the interest among the youth, work can also be done to help students with the attributes, skills and interest in plumbing, to find their way to doing an apprenticeship and not be steered off course by external pressures along the way.
In researching this story, Plumbing Connection wasn't able to find evidence of there being a national strategy in place by the plumbing industry to ensure it is effectively monitoring these issues across the sector and sharing ideas, tools and what's working/not-working between the States.
There is seemingly no-one person charged with pulling this together nationally and in this day and age, is that good enough for an industry of this size and importance? Typically it falls to the local MPA's to do the heavy lifting but they are not overly-resourced and currently there is no formal national association of the MPA's that is focussed on such issues.
Hearing from the kids
What the results of the school survey told us.
After talking to many people within the industry, all hypothesizing and postulating what school students think about the plumbing industry, it only seemed natural to get feedback from the students themselves. The year 10 students from Mazenod College gave us an indication of where the plumbing industry can improve to change perceptions of the industry. Currently the split of students between Government secondary schools and independent/private schools is 59% / 41%.
Five key points
Most students at Mazenod aim to go to university.
Our survey showed over 80% of surveyed students aimed to go to university. Only two students planned to do a TAFE course.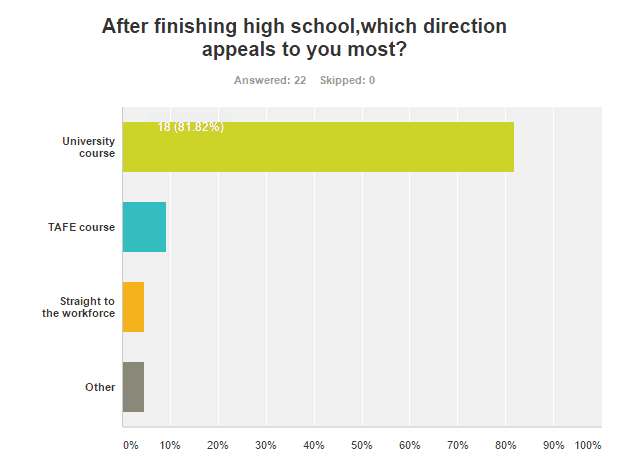 Parents play a major role in influencing student decisions.
If the plumbing industry wants to get more school students to choose plumbing as a career, it has to work on informing parents of the benefits of the industry. Paul Naylor from MPA and Careers Advisers Association secretary Jenine Smith both say parents are crucially important in career choices for school leavers. This was confirmed by the survey results with over 40% of students surveyed indicating parents were the main influence on their career direction.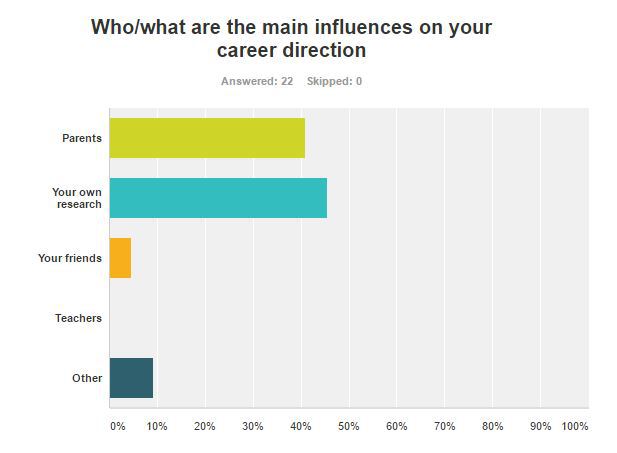 Doing practical classes at school is a major influence on career choice
When asked, 'are there any other trades that are more interesting to you than plumbing?' many students said carpentry. Year 8 students at Mazenod do a compulsory year of wood work/metal class. In later years students can choose to do a more advanced class.
School students don't know the career options plumbing can lead to
Not a single student surveyed was aware of the career pathways plumbing can lead to. This presents the industry with an avenue to do a better job at marketing the career opportunities for plumbers. Many students also said they would be more inclined to choose plumbing as a career if it had a name such as 'plumbing engineer' or 'environmental consultant' that indicated a wider industry than what is generally promoted
School students have a narrow minded view of the plumbing industry
When asked, what comes to mind when you think about plumbing as a career, the majority of responses were along the same lines. Here is a sample of paraphrased responses that give an indication of student perceptions of the industry: "pipes and waste", "working with toilets", "smells, dirt, pipelines, toilets", "fi xing pipes, installing pipes and unclogging pipes", "toilets, sinks, clogged pipes, human waste", "clearing blocked drains, sorting out piping of a house." Not one respondent talked about environmental services, gas fitting or running a business.
What the industry can do
We spoke to Mazenod College careers coordinator Vivian Seremetis and VCAL coordinator Matt Johnson to find out what the plumbing industry can do to better engage the students at Mazenod. They made two critical suggestions.
The industry needs to provide information resources to schools, students and parents.
It is hard for careers teachers to know the ins and outs of every possible career choice out there. To help careers teachers, the plumbing industry needs to create resources for careers teachers to provide to students and parents.
"The meat industry for example has a really good website about careers in meat and the benefits of being in the industry. It shows the meat industry is not just about being a butcher and there are many different roles available in the meat industry," says Vivian Seremetis.
"It would be great for the plumbing industry to provide careers teachers with printed materials we can hand out, videos we can show and websites we can give links to, all providing information on the many benefits of working in the plumbing industry and the career paths plumbing can lead to."

The industry needs an apprenticeship officer to assist students who want to do work experience in plumbing, directing them to plumbing companies that are happy to take on work experience students.
"We've been struggling for many years to get students placed in plumbing businesses," says Matt Johnson.
"We had a student who really wanted to be a plumber, he was very proactive and wrote to many plumbing companies but he just couldn't get a spot. He got frustrated trying tirelessly to get his foot in the door but couldn't.
"I had a boy who wanted to be a bricklayer. I went to the association of bricklayers and asked if they had a list of brickies who are taking on students. Their response was: 'No we don't'.
"I would have thought that would be the first thing they had.
"We need a better way of matching students who want work experience with workplaces willing to give students that opportunity."
Ideally a nationwide system should be put in place to help match school students and plumbing workplaces.
One class at a time
There are a whole host of challenges for the plumbing industry to communicate its benefits and effectively market itself to teenagers, particularly to gain and retain the attention of school students.
Sitting down and talking to teenagers, one on one or in small groups can be more effective than just handing out flyers or producing a YouTube video.
A one on one approach however requires a lot of manpower. It requires plumbers who are passionate about the industry (and feel an obligation to give back) to volunteer to go to schools and be an ambassador for the industry.
There are some plumbers who already do this but it needs to be done on a much larger national scale in a controlled manner.
Shinners Plumbing director Kevin Shinners visits local schools around the Dandenong region in Melbourne's South East, where the company was established over 60 years ago.
"Most kids don't really get an adequate understanding of what's involved in the industry from the school itself. We need people from the industry engaging with the kids so they are better informed and that's why I do it," he says.
"There are people out there who are working hard with the kids to assist them but overall we are not managing to adequately convey how good a trade plumbing is.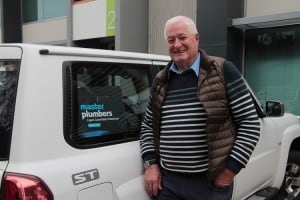 "I do mock interviews with the kids who are interested in trades. This really helps them gain a stronger understanding of what the industry is all about and helps them to make a more informed decision."
Kevin takes this a step further by giving school students the opportunity to experience two weeks in the life of a plumber. He has built a relationship with local schools to give students interested in a trade an opportunity to get some plumbing work experience at his business.
"Most students want to come for a few months but we usually do two week programs so more kids are given the opportunity."
"Some kids come through and they love it, others think 'this is not for me', but either way it's a good outcome because at least they know if they want to choose plumbing as a career."
For Kevin there is no money to be made by doing this and he is not in it for the glory; he is just passionate about the industry. He knows it is crucially important to the future of this industry that young people are clearly informed on the merits of a career in plumbing.
What the NSW cadetship in plumbing engineering is all about.
The proposed Cadetship would be delivered over a three year period at the Master Plumbers College of Excellence in Sydney NSW.
The Cadetship is proposed to commence with resume reviews, aptitude testing, personal interviews and other assessment criteria. A medical assessment would be conducted before any agreement is signed off between the cadet and parents.
Theory and Practical Training: An 18 month fully off -the-job – 4½ days a week training and assessment. The Cadetship covers the full traditional plumbing trade for 864 hours as per the normal delivery plus 432 hours of additional assessment to provide a higher quality outcome.
Practical Workplace Training and Assessment: A further 18 months guaranteed employment as an indentured employment with MPAL.
Lifelong Pathways: Registration as a journeyman plumber and commencement of the Certificate IV in Plumbing to become a Trade Contractor.
The training scheme will be closely monitored with multiple assessment activities at key points through the program. The Cadetship will use an online Skills-Tracker tool which logs workplace evidence. Positions in the program should be keenly competed for and what parent wouldn't be impressed with their child being schooled under a professional program like this. Further details at www.masterplumbers.com.au
The internet of everything
If you enter some search terms around plumbing careers or being a plumber, you quite predicably end up with all sorts responses. Some are local, others relate to the US and UK.
Up there in the ranking is www.plumbingcareer.com.au which links back to the Victorian MPA'. It has a good range of practical information, though it doesn't push anyone through to further information in other States.
There are more general sites like www.studyselect.com.au and even Open Universities (www.open.edu.au/careers/construciton/plumbers) that informs this about plumbers: Plumbers repair, install and maintain plumbing systems. Plumbers don't need any formal education and can be paid rather well but they may work with hazardous materials in dirty or extreme environments. Experience in the field is required.
Another more visually inspiring website is www.skillsone.com.au which is supported by some government funding. It hosts hundreds of videos on various career options, many of which are case studies. However, it's a super competitive environment that is hard to stand out in.
So, while there is quite a lot of information out there, no one site talks for the broad industry and gives you everything from A-Z in a language that likely appeals to today's youth.
So what could/should be done to market a plumbing industry career?
We're not education experts or career advisers but there are a few things that seem obvious to us we believe require work or re-work, in order to communicate in the right way.
Some of these include:
Infographics are a popular and effective way of summarising a whole lot of information in a colourful and communicative way. Perhaps we need an infographic that shows the path through the career development, what training is involved and the opportunities beyond.
School involvement app: If we are trying to explain the various roles of a plumber to kids, perhaps an app can be developed that the kids can use to audit their own schools' plumbing system or home. It could get them involved in measuring water pressure, looking for backflow devices and understanding where the water meter is etc.
That data could also be converted into an app to support other social media initiatives.
The Skills TV videos are quite good but the industry needs to provide more input. Maybe at the end of each video it should point towards the app.
There may be benefit in having one website that streams visitors to each state and the local MPA or TAFE's and portrays a consistent message.
The power of personal presentations at a local level cannot be under estimated. The example earlier in this review with the work Kevin Shinners is doing should be taking place across Australia on a weekly basis.
It is important to change the current perception of what a career in plumbing is all about. There's more to it than unclogging toilets. Plumbing plays a vital role in the health and safety and sustainability of our community. That's a career that should be celebrated and aspired to.
To achieve that the industry needs to arm these classroom warriors with up-to-date presentation materials. That might even include a train-the-trainer video, so that we have consistency of image/message presented across the country.
And if kids are going to be working at a plumbing company for a couple of weeks, there needs to be a simple program for the businesses to follow to present the career in the right way.
To make these things happen, somehow the industry needs to find the resources to fund an ongoing program that represents the future interests of this $5+ billion industry. Is that pool of funding sourced via a $1 levy on every invoice coming out of merchants? Whatever the method, the industry has to find a way of paying forward.
Plumbing: it's not a bad industry; otherwise you wouldn't be in it, right?