World Plumbing Day 2013 gets bigger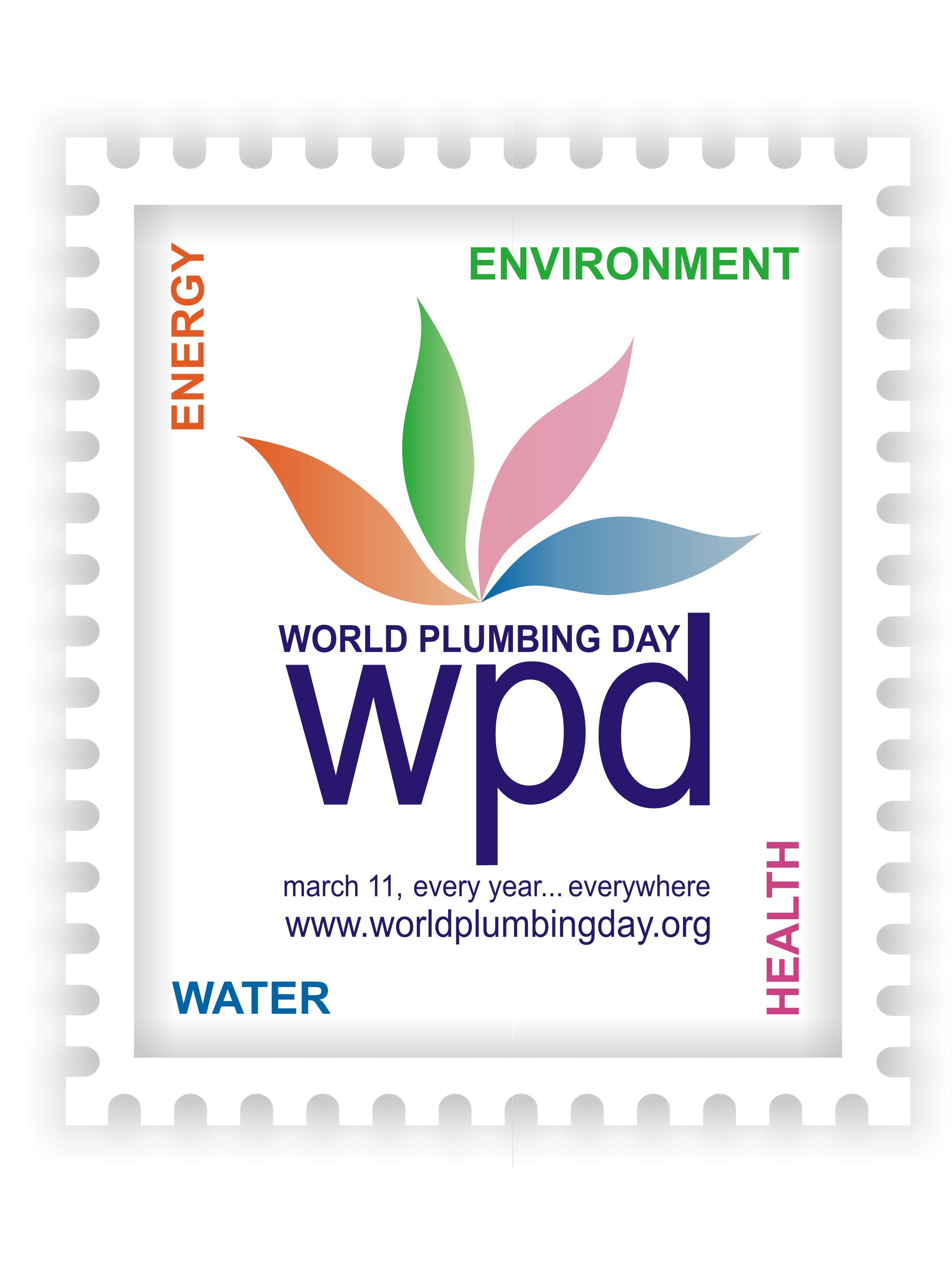 The world celebrated World Plumbing Day on 11 March 11 and there was much fanfare across all nations from the UK to Australia and the US to Africa.
World Plumbing day is growing in stature year by year. In its short history, it has gathered up solid support from continent to contractor. Its message is clear, that plumbers have a major role to play in world health, but it is a message that needs to be reiterated as much as possible.
As the CEO of the World Plumbing Council, Russ Chaney knows this best. Russ says, "This year has been the most successful celebration since its inception three years ago. In my dual role as Chairman of the World Plumbing Council and Chief Executive Officer for The IAPMO Group, it is an extreme honour to play a prominent role in promoting a day dedicated to the important role that the plumbing industry plays in protecting our society. As you visit the World Plumbing Day Website, you'll see the numerous ways in which our industry celebrated in the days leading up to March 11. I couldn't be more proud of the IAPMO members, chapters and staff who played a part in making the 2012 celebration a great success."
Russ is also a member of the American National Standards Institute (ANSI) Board of Directors, which provides important information on how the lack of plumbing infrastructure has exacerbated health problems worldwide. Russ made a video to discuss the history and goals of World Plumbing Day which can be viewed at http://www.youtube.com/watch?v=Vo3HVpFW_Mw&feature=youtu.be.
Good Plumbing is the KEY to Good Health
Robert Burgon is the CEO of the Scottish and Northern Ireland Employee's Plumbing Federation and the former charge of the World Plumbing Council. Robert is passionate about the day and in a speech he gave as celebrations began he alluded to the fact that we can sometimes take our sanitation systems for granted.
"Although we tend to take access to good quality water supply and sanitation systems for granted in the United Kingdom, many parts of the world still face the tragedy of death and disease as a direct consequence of the lack of access to basic plumbing systems. The World Health Organisation has estimated that around 1 billion people worldwide still do not have access to safe water supplies and 2.6 billion (about one third of the world's total population) do not have access to basic sanitation systems. It is believed that over 3 million children die every year as a result of preventable water-borne diseases.
"In the United Kingdom, it is legally possible for anyone to practise as a plumber whether or not they have been trained or hold the qualifications which have been recognised by the industry. Television programmes regularly publicise the activities of so called 'rogue traders', many of which are in the plumbing business. Although the numbers may not be on the scale of those in developing world, people have died and others have become seriously ill as a consequence of plumbing work which has not been undertaken competently and professionally.
"Organisations like SNIPEF are proud to promote World Plumbing Day. Over many years, SNIPEF has been campaigning to promote the importance of professional plumbing in initiatives such as:
• The management of virtually all plumbing apprenticeship training in Scotland helping apprentices to reach the SVQ Level 3 qualification required to operate as a plumber;
• The creation of the Plumbing Industry Licensing Scheme which gives customers and clients assurances that work will be carried out in accordance with regulatory requirements, by qualified operatives employed by businesses which have met the strict licensing criteria. This scheme is backed by a unique independent complaints mechanism backed by a no-cost warranty arrangement;
• Involvement in the overarching Construction Licensing Executive (CLE) which approves licensing schemes throughout the construction industry;
• Creation of an Approved Certifier of Construction Scheme which enables firms to self-certify that their work meets the requirements of the Building Regulations; and
• Membership of and involvement in the World Plumbing Council.
"On World Plumbing Day, 11 March 2013, please take a moment to think about the critical role played by SNIPEF, its members and others aiming to promote excellence in the plumbing industry and consider what life might be like if we did not enjoy access to the professional plumbing facilities which are widely available to us."
ANSI were also quite prominent in their response raising awareness of the World Plumbing Council and the World Health Organization's collaboration Health Aspects of Plumbing.
ANSI reported: "Another major focus of World Plumbing Day is the important role that plumbing professionals and organisations play in protecting the environment, particularly the fresh water needed to fuel agriculture and keep people healthy. The plumbing industry is an important player in the promotion of sustainability initiatives, including through its support for technologies associated with water re-use, desalination, solar water heating, and gray water management. For more information about the role that plumbing plays in larger environmental efforts, check out the World Plumbing Council's
Environmental Aspects of Plumbing fact sheet.
"ANSI salutes the World Plumbing Council and World Plumbing Day participants for their efforts to promote public health and environmentally friendly water usage in connection with plumbing. As part of its own efforts to promote effective water usage, ANSI serves as an accreditation body in the US Environmental Protection Agency (EPA)'s WaterSense program. Under the program, products certified by accredited certification bodies may carry a WaterSense label, helping consumers identify products that assist in the conservation of water."
Closer to home, even Canberra was getting into the spirit. Craig Simmons, Director of Construction Services in the Environment and Sustainable Development Directorate said, World Plumbing Day is a "time to celebrate and appreciate the value of plumbing in a world where, according to the World Health Organisation 1.1 billion people do not have access to safe water supplies, 2.6 billion people do not have access to improved sanitation and 3.1 million children die each year from water related diseases.
"Every day we wash, we use toilets and we drink clean, fresh water yet we never give it a second thought. To imagine that the systems that provide these things were not there or didn't work is almost impossible.
"In Canberra flushing toilets are standard everywhere and we give little thought to the engineering expertise provided by plumbers that ensures these systems operate as intended.
"I think our plumbers and the systems they have built deserve our acknowledgement and respect. Water is a valuable resource and it is important that we conserve our supply for the future," Mr Simmons said.
What went on overseas
United Kingdom
Scottish Water placed a message of support on their website, scottishwater.co.uk. Meanwhile SNIPEF commissioned a DVD which features a presentation by Professor Mala Rao, a former chief medical adviser to the NHS in England and currently Professor of International Health at the University of East London.
In the DVD, Professor Rao sets out the background to the medical advances which were achieved in 19th century Britain through the installation of clean water supplies and sanitation facilities and contrasts this with the appalling situations which still exist today in many developing countries where lives are regularly lost through lack of access to basic plumbing. She also stresses that even in the developed world plumbing needs to be taken more seriously against a background of climate change and natural disasters. She concludes with a clear message to all that plumbing is essential to life and must not be taken for granted.
United States of America
In the US, the United Skilled Plumbers Association, Inc. (USPA) joined stakeholders in emphasising the need to address the problem of access to clean water and effective sanitation, especially in places such as Cebu.
"While there are reliable services already provided such as the ones given by the Metropolitan Cebu Water District (MCWD), waterless communities in Cebu remain. For areas that already have enough water supply and systems, there is still the need to ensure that these systems operate as intended, such as what happened to the towns of Carmen (diarrheoa) and Badian (typhoid) in Cebu, requiring the technical expertise of plumbers and other tradespersons."
USPA also emphasised the significance of women to coincide with Women's Month.
"It is also important to note the role of women and children, who play a large part in collecting water for family use, oftentimes along long and arduous road in order to obtain water that are sometimes not safe to consume.
"The situation calls for a more collaborative effort among different stakeholders such as water districts and cooperatives, other service providers, communities, government officials and associations like USPA to address the needs of communities, within the framework of water cooperation espoused by the United Nations General Assembly in declaring 2013 as the United Nations International Year of Water Cooperation."
In more personal responses, Len the Plumber recognised World Plumbing Day his way.
The Baltimore-based, plumbing service offered a free water analysis in honour of World Plumbing Day. Len The Plumber conducted tests for iron, pH level, and hardness. The results were provided on the spot and the technician the provided a number of recommendations on what could be done to improve the drinking water.
"This was our small part to helping promote Plumbing Day; for people to see and understand how important a role plumbing plays in their everyday life and throughout the world," stated Lisa Fairley, director of marketing, at Len The Plumber.
American Standard's Director or Design, Gray Uhl, a third generation plumber with a rich history in the industry and CAD Engineer Anthony Esposito set up a You Tube video to explain what World Plumbing Day means to them and how American Standard is working toward creating better plumbing products for everyday living.
Sioux Chief, a Kansas-based manufacturer of plumbing products since 1957 sponsored several programs, including borehole drilling, repair, and hygiene training for those in need in Sudan.
Since 2006, the non-profit organisation, Persecution Project Foundation, PPF, has operated a Safe Water campaign which has drilled 80 wells for refugees and internally displaced persons in Sudan. Additionally, PPF's Safe Water Program funds water purification systems, solar-powered pumps, health and sanitation training and emergency borehole repairs.
"We believe the best way to show our support for World Plumbing Day is to provide safe, clean drinking water to children and families from the Nuba Mountains who have lost everything but their dignity and who suffer from lack of safe, clean water sources," said Sioux Chief CFO, Dominic Ismert.
"We encourage others to help the suffering communities in Sudan and join us in sponsoring this important initiative by giving to Persecution Project Foundation's Safe Water Program.
"With hundreds of thousands in Sudan and South Sudan needing clean water to survive and thrive, we are honored to participate in aiding them on World Plumbing Day," Ismert said.
The Plumbing Museum in Watertown Massachusetts partnered with the World Plumbing Council to bring the World Plumbing Day poster contest to local elementary schools. Elementary school students were asked to create posters of their chosen size to celebrate World Plumbing Day. Posters were submitted to the World Plumbing Council for consideration. Small prizes were awarded to winning posters from each grade level. The winning posters were then be entered into an international competition where cash prizes will be awarded to both the winning school and student by the World Plumbing Council.
Canada
Plumbing organisations across the country joined the Mechanical Contractors Association of Canada (MCAC) and the Canadian Institute of Plumbing and Heating (CIPH) to undertake activities with the aim of raising awareness to the important role played by Canada's plumbing industry.
As a means of promoting World Plumbing Day in Canada and around the word, the partnership of MCAC, CIPH and the WPC provided content for industry and national news publications, engaged in promotional efforts on a national, provincial and regional level, provided powerpoint presentations for school discussions, and representatives approached the federal, provincial and municipal governments for their support and assistance in promoting World Plumbing Day.
On March 11 MCAC, CIPH and WPC were joined by other Canadian members of the WPC including the Mechanical Contractors Association of Alberta, the Canadian Standards Association, the Ontario and British Columbia Plumbing Inspectors Association, UA Local 787 and 67, and the International Association of Plumbing and Mechanical Officials to bring this vital component of our world to everyone's attention.
Trinidad
Plumbing Solutions recognised World Plumbing Day through the Design Poster Competition Launch, which was staged at the Dunross Preparatory School in Westmoorings,Trinidad.
Mr. Scott Fabres, managing director of Plumbing Solutions delivered the feature address, and Mr. Joseph Cedeno, executive director of The Plumbers Association of Trinidad and Tobago spoke on behalf of the TPATT.
In attendance were approximately 109 students, along with their Teachers and Principal, Mrs. Giselle Rostant and they all wore their World Plumbing Day T-shirts. The back of these T-shirts displayed the poster of Jordan Weekes of Bishop Anstey Junior School. Jordan won the local design poster competition and placed second in the international competition last year.
Over the following two weeks a number of primary schools across Trinidad took part in the Second Annual Poster Design Competition. The school with the winning entrant in Trinidad & Tobago receives $10,000.00 in plumbing services and supplies, while the winning student receives $500.00, both courtesy of Plumbing Solutions.
The winner of the local competition also has their poster entered into the International Poster Design Competition, which will be judged by the World Plumbing Council.
Australia
NSW
A major barbecue was held by the Master Plumbers in which apprentice competitions took place. First year apprentices were required to complete a sheet metal job, cutting it into giant shapes, folding, riveting and soldering. Second and third year apprentices were required to take part in a steel and metal fabrication job. The competition was open to any plumbing apprentice in NSW.
WA
In West Australia, The Master Plumbers and Gasfitters Association of WA (MPGA) attempted to set a Guinness World Record for the Longest Human Towel Chain in Forrest Place. The current world record is 250.
"We're really hoping that Perth can claim this title," said MPGA CEO Murray Thomas.
Everyone who took part received a specially embroidered World Plumbing Day 2013 bath towel and I'm a World Record Holder badge.
Of World Plumbing Day, Murray says, "We're fortunate enough to live in a first world country where we take plumbing and sanitation for granted. But without plumbers and decent sanitation we could be susceptible to third world conditions.
"That's why it's important that we celebrate World Plumbing Day every March 11, so the public better understand the critical role the plumbing industry plays in protecting their health and safety, the health of the planet and the environment
"Let's not forget that it was only last month in Port Hedland that bottled water sold out because locals were worried that they might have their water supply cut-off by cyclone
Rusty. Thankfully, Rusty veered off course but it's a reminder that clean water and sanitation is a vital part of our health and our everyday lives."
Murray also pointed out the necessity of licensed plumbers.
"Unlicensed plumbers can leave families without water and sanitation. The risks are too high when you don't use a licensed plumber. There's also the added cost of having the shoddy work repaired. That's why we recommend that you always use a licensed plumber, who is a member of the Master Plumbers & Gasfitters Association of WA.
QLD
President of Queensland's leading plumbing industry body, Master Plumbers' Association Queensland (MPAQ), Bob Kimlin, says he is thrilled about the global recognition of an industry that has shaped our modern way of life.
"It is now widely recognised that plumbing has made a significant contribution to the well-being of human society, and has done so for many generations, providing fresh water, effective sanitation and yes, at the same time safeguarding the environment."
Mr Kimlin says that the widespread use of plumbing techniques has seen the average lifespan of mankind across many regions of the world virtually double. "Deadly diseases such as typhoid and cholera have rapidly declined as a healthier more comfortable living environment has been created. Then there are those parts of the world where establishment of sanitation systems and indoor plumbing has been the most significant development."
MPAQ asked everyone to stop and think about what has been achieved by an industry that has focused and continues to focus on public health innovation. "What we hope to achieve on this day is to put the spotlight on the need for plumbing in all areas of the globe to eradicate disease and improve the health of those in less fortunate situations.
"The State's tradesmen on this day deserve a well-earned pat on the back."
Victoria
The Plumbing Industry Climate Action Centre ran a series of events to mark WPD in Victoria. These were a pre-celebration of the actual WPD which fell on the Labour Day holiday this year.
Highlights of the day included;
• Plumbing Industry Commission Luncheon – Invited Industry Stakeholders attended a luncheon with speakers focusing on the importance of health and safety in the plumbing industry. Special guest speakers included Australian Rules football identity and prostate cancer survivor David Parkin, Work Safe's Jarrod Edwards and the Plumbing Industry Commissioner, Greg Hyams. Lunch followed official proceedings providing the opportunity for guests to network with fellow Victorian plumbing industry stakeholders. Over 200 guests attended. Each guest received a WPD t-shirt and a show bag which included inserts from industry supporters of our WPD activities.
• Plumbing Apprentice Skills Competition – Nine of Victoria's finest apprentices showcased their skills and knowledge of plumbing and mechanical services in a six hour practical demonstration. Guests watched the competitors' progress throughout the day. The day culminated with a presentation ceremony where each competitor received a certificate of participation and the winner, second and third places also received cash prizes.
• Congratulations to Alex de Koeyer who won the skills challenge. The future of the plumbing industry is in very bright and talented hands.
• Plumbing Careers Expo – RTOs and TAFEs set up informational displays and brought leaflets and information for interested attendees. Over 120 invited students from schools around Victoria attended and received an insight into different training and employment options available within the plumbing industry. Exhibitors included – Victoria University, Swinburne TAFE, Ballarat University, Box Hill TAFE, Holmesglen TAFE, RMIT, Master Plumbers and PICAC.
• Plumbing Trades Expo – Companies and organisations set up displays of sample products, marketing materials and information targeted at industry stakeholders who attended the luncheon. Most of the 200 plus guests visited the Expo after they enjoyed some lunch. The theme of workplace health and safety continued in this area also. Exhibitors included – Bostik, Grundfos, Bent-Over Silicone Nozzles, Energy Safe Victoria, Work Safe, Incolink, The Prostate Cancer Foundation of Australia and The Cancer Council Victoria.
• Art Exhibition – A display of a sample of World Plumbing Council 'Water is Life' competition entrants, these thought provoking images were designed to stress the importance of water in our world. The images were received well by guests and not only gave them something interesting to look at but proved to be a conversation starter also.