World Plumbing Day 2010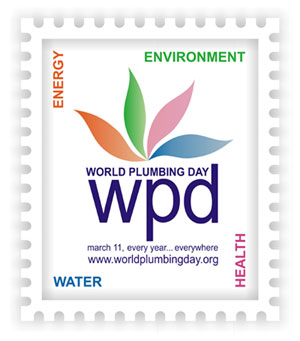 The first ever World Plumbing Day is to be celebrated on 11 March, 2010. worldplumbinginfo.com interviewed World Plumbing Council chairman, Robert Burgon to find out what it's all about.
At its annual meeting in Centurion, South Africa (22-23 October 2009), the World Plumbing Council confirmed details of World Plumbing Day.
With the theme Plumbing-Vital to Global Health, plumbing organizations throughout the world will be invited to undertake a range of activities with the aim of raising awareness of the important role played by today's plumbing industry.
"There are international days for all sorts of causes and their purpose is always about awareness raising, WPC Chairman, Robert Burgon says. "World Plumbing Day is no different and we simply want to make more and more people realize that plumbing is a significant industry and a major contributor to public health and the environment. This year we have chosen the theme 'Plumbing-Vital to Global Health' with the intention being that we highlight just how much our industry contributes to both the health of our people and the health of our planet."
The aim is to involve local communities to spread the word, Robert feels this is the only way to bring about the required results.
"Our idea is that WPC members and indeed any organization or individual in the global plumbing industry takes the opportunity to do something in their country or even their city as a way of alerting their fellow citizens to our industry. The more local activity there is, the more chance we have of the message being seen and understood."
Yet, what can communities do when the industry has been taken for granted for so long? Robert gives a range of solutions to this ongoing marketing problem.
"Our dedicated website www.worldplumbingday.org has listed some suggested activities which range from conferences, motions in Parliaments, letters to newspaper editors and talks in schools. The website also lists activities which have been organized and already, more than five weeks before the time of the Day, it includes events in the USA, China and Scotland. I know that there are plans being developed for other activities in other countries including Australia and South Africa. I am aware that two prominent Scottish plumbers plan to stand in a busy shopping street in Glasgow (Scotland's largest city) with placards proclaiming the importance of plumbing."
And it's not just about fixing pipes; it is plumbing as a whole of system solution that is the message being touted. World Plumbing Day is about the value of sanitation.
"I believe that in developed countries, effective sanitation is usually taken for granted (until something goes wrong)," Robert says. "In developing countries where there is often no effective sanitation, then there is a lack of awareness of just how significant even basic sanitation could be. We should never miss the chance, wherever we might be, to stress the importance of sanitation and the role which our industry plays in the design, installation and maintenance of such systems.
A logo for the Day, designed by young Indian graphic designer Anuja Khokhani of Ahmedabad, India hopes to push this point by illustrating four key elements with which plumbing is associated: water, health, energy and environment. It is hoped that the logo will be used widely, drawing awareness to the fact that plumbing is far more important than many people in both developed and developing countries realize.
Robert comments, "Our hope is that on World Plumbing Day, the world will come to realize that plumbing is essential in protecting both the health of our people and the health of our planet. Where countries have developed plumbing systems, the role of our industry is often taken for granted. In developing countries, many people have yet to discover the real difference that plumbing can make. WPC hopes that newspapers and all other forms of media will help many more people to understand that our industry is a key player in so many aspects of society."
Robert will launch the first World Plumbing Day at a press conference in Beijing, China in conjunction with the ISH China exhibition, organized by WPC's special industry partner Messe Frankfurt.