Waterless woks are a cool way to cook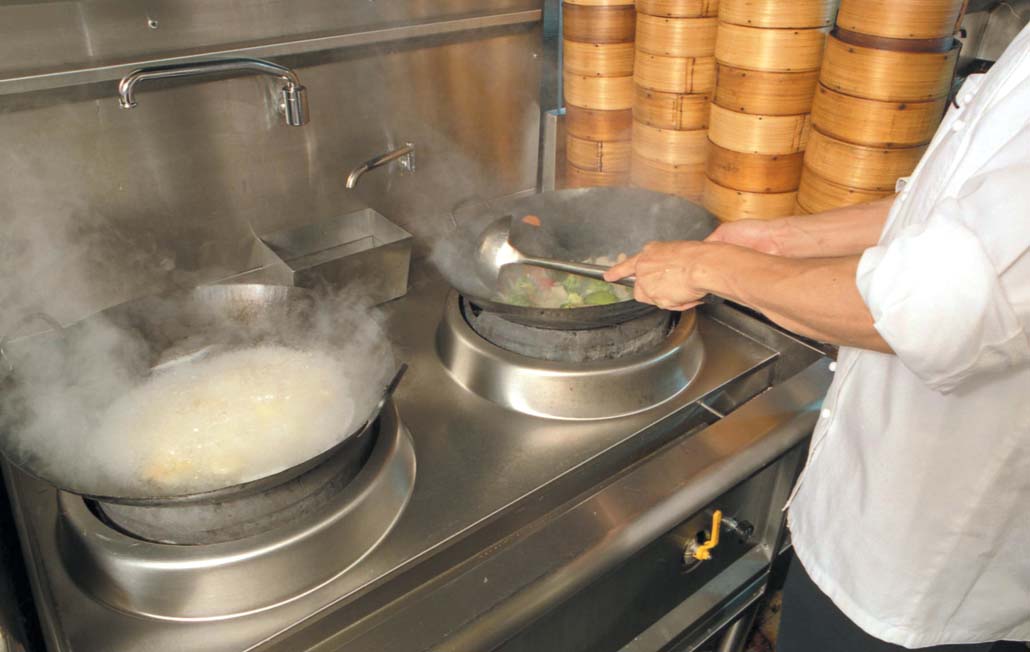 A water utility says Asian restaurants in one big city could collectively save millions of dollars by upgrading their cooking facilities.
With increasing populations and dwindling supplies of potable water in many parts of the world, many advances have been made – water-saving toilets, showers and washing machines, low-flow faucets and waterless urinals.
But one inefficiency that until recently has been largely neglected is the substantial amount of water used in cooking at Asian restaurants. So why not develop a waterless wok?
Because the burners generate lots of heat, conventional wok stoves consume a lot of water due to the constant flow that cools the cook top to prevent it from buckling.
In addition, water is used for rinsing the wok after each dish is prepared and for cleaning the cook top. Cooling jets and the swivel spout or tap are often left on, even when no cooking is occurring.
Edward Maher of Sydney Water, a utility provider in Australia, says waterless wok stove installations have shown that water waste can be reduced by as much as 90%, with full ROI within one year.
"The average water use of a conventional wok stove is 5,500L (1450 gallons) a day, and in Chinese restaurants – which account for up to 50% of all Asian restaurants – it can be as much as 8,000L (2115 gallons) a day.
"With waterless wok stoves, the need for cooling water is eliminated because the stove has an air gap that insulates the stove elements and releases the heat to the kitchen exhaust. A spout that cuts off water supply when the stove is not in use is also provided, and some units have a knee-operated lever on a timer tap to limit the flow rate and duration to a small reservoir used in cooking.
"If the flow rate is reduced from 12L to 4L (3.1 gallons to 1 gallon) a minute by eliminating wok stove cooling water and waste, a saving of $A5,400 ($US4,545) a year can be achieved. In Sydney Water's area of operation there are about 2,000 wok stoves, so if 5,000L can be saved from each unit every day, then restaurant industry profitability will increase by $A9 million ($US7.5 million) a year, and Sydney would save about 3.6ML (950,000 gallons) a year."
Melbourne company B&S Commercial Kitchen Appliances designs and manufactures waterless wok cookers and waterless steamers for use in Asian restaurants.
General manager Dean Skalistis says the need for water deck cooling has been eliminated with the new design, which minimizes heat transfer from the wok support ring.
"This not only ensures a reduction in water usage but also results in a decrease in sewer usage and waste discharge fees – as well as less long-term maintenance, as there are no leaking rings to repair.
"Other water-saving features include the WaterSet wok spout, which can be activated only while over the wok pan, and the optional knee-operated laundry arm valve that is fitted with an automatic timer. This latter feature helps to minimize water usage by chefs when filling their reservoir, as only 10-20 seconds of water flow is fed through the laundry arm at a time.
"More than 100 of our waterless wok cookers, which cost about the same as conventional units, have been sold Australia-wide, and we get many inquiries from overseas."
In conjunction with Sydney Water and National Project Consultants (NPC), Thornthwaite Technologies in Sydney helped to develop the waterless wok stove by supplying the knee-operated Presto 712S valve that is fitted to the B&S units.
Managing director Andrew Thornthwaite says the Presto 712S incorporates unique security and anti-blocking technology that prevents the chef from allowing water to run continuously.
"This valve ensures water flows only when the knee wand is pushed and released. Even if the chef ties the wand back, water will not flow until the wand is fully released.
"Added hygiene benefits come from the fact that the valve is operated without any hand contact, which reduces cross-contamination in commercial kitchens."
Trials
In Sydney, an initial trial was conducted in a 200-seat Yum Cha restaurant that operates 364 days of the year with a daily average of 275 customers. The restaurant had two water cooled wok stoves each with two burners and rear swivel spouts. For the purpose of the trial, one stove was replaced with a waterless unit complete with cut-off spout and tap timer.
Cooling water savings of 3,500L a day and cleaning water savings of 2,550L a day were recorded, giving a total cost saving of $A5,110 a year. With an installed replacement cost of $A5,000 for the waterless wok stove, payback was achieved in one year.
Robert Quinn of NPC says his company developed the first prototype waterless wok stoves and managed the initial trials for Sydney Water.
"About 70 waterless wok stoves have been installed, many of them under a program involving the Ethnic Communities Council of New south Wales and NPC. Another 160 installations are scheduled.
"Roll out of the program is being assisted by grants from the NSW Government's Water Savings Fund. Participating restaurants can receive a grant of $A2,000 towards the cost of installing a waterless wok stove, or a grant of $A2,000 plus an interest-free loan of $A2,000 to be paid back after one year.
"This incentive scheme is helping to provide substantial water and cost savings, but the replacement of conventional wok stoves should be made mandatory. Our trials have shown that water-cooled wok stoves waste huge amounts of water, and waterless wok stoves are now readily available. They also make good business sense – they can pay for themselves in 12 to 18 months."
The benefits of waterless wok stoves have also been recognized in Melbourne, the capital city of the State of Victoria.
The City of Melbourne, in partnership with B&S and the Sustainable Melbourne Fund, has launched the Waterless Wok Stove Program, which offers up to 20 businesses the opportunity to recycle their current wok stove and upgrade to a waterless unit with competitive terms and no upfront costs.
Demonstration sessions have been conducted for prospective participants to highlight the benefits of converting to a waterless unit, including reducing water usage by up to 90%. The cost of the waterless wok stove varies depending on whether the new stove will need to be customized to meet kitchen requirements, and water savings will depend on how the current wok stove is used.
There are an estimated 300 conventional wok stoves in the City of Melbourne, using about 1.8ML of water a day.
"Data to compare water usage in the restaurants that install waterless wok stoves will be compiled to gauge the success of the program, and metal from the stoves that are being replaced will be recycled."
Financial incentives for program participants include a rebate on the cost of the new unit from the State Government agency Sustainability Victoria and a loan for the remaining cost from the Sustainable Melbourne Fund, repayable in instalments over two years.
For many businesses, cost savings from reduced water use are expected to cover payments for the waterless wok stove.
Melbourne retail companies City West Water and South East Water will assist with evaluation once the program is running, with a view to the future broad promotion of waterless wok stoves.
Another water retailer in Melbourne is involved in trialling waterless wok stoves. Yarra Valley Water is working with selected restaurants in the city's outer eastern suburbs with a view to building up case studies that will encourage more restaurants to adopt the new technology.
This Australian initiative is one that every city the world over would do well to investigate and implement.
While local authorities make many demands on the health conditions of restaurants, thought needs to be given to introducing such waterless stoves/woks as a requirement of setting up an Asian restaurant.
It's a win-win for all parties in the process, as well as the environment.