Viega aids in NSW south coast hospital construction
The new hospital expected to service the needs of more than 200,000 people in south east New South Wales is a complex, expensive and time consuming construction project. Factor in the need for 15 kilometres of pipework, labour management and conflicting schedules with other trades, and the cost of any resultant delays could potentially blow the multi-million dollar budget. That's why AMS Hydraulics looked immediately towards Viega Australia when it came to changing from silver soldered copper tube and fittings for hot and cold potable water.
The state-of-the-art hospital, which opened on April 4, 2016, replaced the old Bega Hospital that had served the south coast community for almost 70 years. The New SERH hospital was designed to cater for the region's needs well into the future, providing a comprehensive range of health services for the communities of the Bega Valley and New South Wales far south coast.
Timely completion
Such a major building and its delivery program required sophisticated design and installation solutions. The plumbing and mechanical pipework services were no exception. The sheer size of the project and the number of coordinated services installations had the potential risk to adversely affect program and completion including the associated costs.
When AMS Hydraulics were awarded the tender for the hydraulic services on the $187 million plus project, it recommended Viega Australia's Propress system in lieu of conventionally welded copper tube and fittings. The mechanical pipework contractor Axis Plumbing ACT also opted to use the Propress system for all mechanical works in the project.
Proven results
AMS Hydraulics National Construction Manager Dan Bennett says: "Viega's Propress was the only one the company considered for the hospital's hot and cold reticulation system. Viega Propress is widely used in our industry and AMS has installed it on all our projects over the last eight years. This is because it not only enables faster installation, but has better warranty compared to conventional copper.  Since there is also no need for welding, the labor time cost and the reduction in OH&S risks to our tradesmen associated with welding conventional copper pipe reticulation systems are negated. Viega Progress is a proven product for AMS. Its quality and its engineering is far superior to other systems."
Dan says the benefits to the client of using Viega's Propress system were not just program and cost but, most importantly, its functionality and durability. "We pride ourselves on our complete project delivery, the best materials and quality workmanship," he says.
"Viega Propress  offers peace of mind due to the Smart Connect-Feature, which allows  the contractor to easily identify any unpressed joints. This is a brand new hospital facility servicing a regional community, so it was paramount that we supplied and installed the best product. We wanted to ensure that it delivered for the facility and the community. We have aimed to future proof this facility in all our design and have therefore used Viega Propress because it is the best quality copper system on the market. The Propress system will be easy to maintain, add to or amend the reticulated system as required, future proofing the facility well into the future."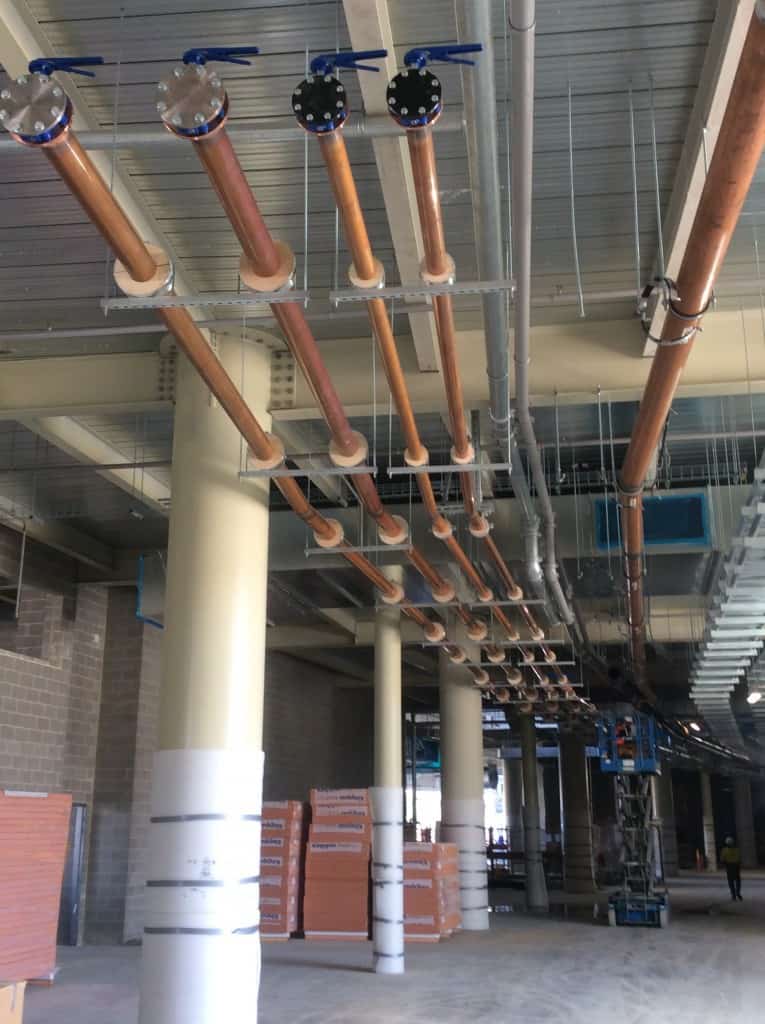 FAST FACTS
489,920 man hours
15,000 linear metres of pipework
13,230 cubic metres of concrete
1043 tonnes of reinforcing
512 kilometres of electrical cabling
1229 doors
3,687 hinges
29,281 square metres of formwork
40,000 metres of internal windows
28,650 square metres floor area
SERH statistics at a glance
134 overnight beds
15 emergency department bays
46 acute medical inpatient beds
20 acute surgical inpatient beds
20 mental health beds
2 birthing suites
4 operating theatres