Plumbing goes to Bollywood
India's economy will outpace China's this year and could one day be the world's largest, so maybe we should be taking more than a passing interest in what's happening on the sub-continent from a plumbing sector point of view. Jeff Patchell recently visited New Delhi on his way home from the ISH Trade Fair in Frankfurt.
For many visitors, India is a confronting destination with its huge (1.3 billion) population and in-your-face poverty, mixed with a rapidly growing middle class that is embracing all the luxuries of the west.
In reality most Australians know little about Indian culture and history but too quickly share populist views about Indian-based call centres and Melbourne's Indian- student taxi drivers, while taking a liking for a serve of Rogan Josh, rice and pappadums at their local suburban Indian take-away.
India has a fledging plumbing industry that has taken great strides over the past decade, but it still has a long way to go to resemble what we think is the norm.
Having attended a number of World Plumbing Council meetings over the years, I have had the pleasure to meet some enthusiastic Indian representatives, some of who hold positions on the WPC executive board, in fact the current chairman Mr Sudhakaran Nair, is a plumbing engineer who hails from Bengaluru.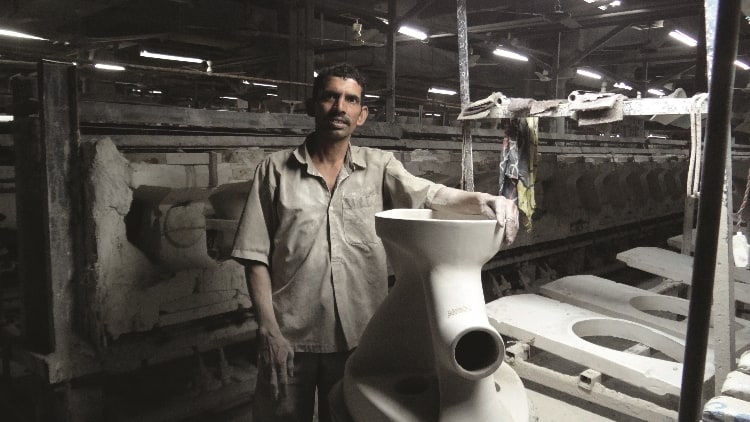 Another regular attendee at those meetings has been a man who commands attention. The first time I met Rajendra Somany I quickly surmised he was the face of the new emerging India, a classic industrialist with a can-do attitude and a great listener who was keen to take back ideas from the more developed countries.
As the head and major shareholder of the large publicly listed HSIL (they market their goods under the Hindware label), India's largest manufacturer of sanitary ware and bathroom fittings, it was extraordinary to see this man sharing his time at such not-for-profits events. These days you are hard pressed to get a mid-level plumbing sector executive out of their office bunkers in Sydney, Melbourne or Brisbane to attend virtually any industry event. R K Somany is different though and so is India's need at this time in its history.
Some say that the Indian economy is at or about the point where China was 10-15 years ago. I'd suggest its middle class is already ahead of that and its manufacturing sector is more mature in some ways.
India has a number of distinct trading advantages such as English being spoken more broadly, a fundamental legal system thanks to the British, a comparatively large semi-skilled workforce  and elite universities producing some of the most skilled engineers on the planet. India today lacks infrastructure and has serious internal transport issues. Just getting its trading goods from the likes of Delhi to a port is relatively difficult and there are no internal shipping canals like the Chinese have had for hundreds of years. The new Government of Narendra Modi is acutely aware of the infrastructure issue though and as part of its new mantra 'Make in India', is setting out to do something about it; against incredible odds.
The ride forward isn't going to be easy but it certainly will be exciting for India and the rest of the world, as India's growing economy aims to outstrip China.
At the invitation of Rajendra Somany I took up the opportunity to view first hand Hindware's major manufacturing facilities as well as talk to him about the rapidly developing plumbing sector.
Hindware first came about 55 years ago when the Somany family collaborated with Twyfords of the UK to introduce vitreous china sanitary ware production to India.
I visited the Bahadurgarh sanitary ware plant, a decent drive into the suburbs from the centre of Delhi. Set on some 50 acres of land, this plant has been in operation for more than 50 years and produces close to two million pieces of sanitary ware a year. By its very nature, china production involves a lot of manual finishing and while there is plenty of labour on hand, it obviously relies on good training and supervision.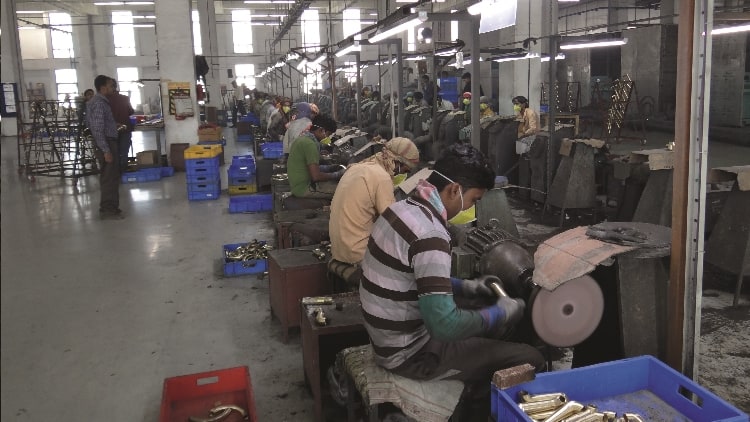 A job at a factory like this is a privileged position. The quality of product produced is excellent with quality checking at every stage of process. Virtually all production is sold locally but the Indian consumer is fussy about quality and also desires the latest designs coming out of Europe. One of the great benefits the plant offers is the ability to produce small-runs of a product and move quickly onto the next order. They have a massive amount of range options at hand.
The 50 acres is not all plant and it is shared with peacocks that roam the gardens as well as housing for staff (around 60 managers and families) that live onsite. There also worship facilities too, as well as a medical centre (the doctor is available all six days of the week) and a school. Coming from the Australian environment of OHS madness, the conditions in the factory can be confronting but the company is gradually improving the life of the worker. Changing the worker culture to readily accept wearing safety gear is as much the issue as anything. The Indian Cricket team may have to wear fluorescent safety vests before you'll see them popular in this part of the world.
India is a low-cost producer and with an average worker salary in this Hindware plant of ~$2,500 a year, there is no rush to automate tasks that are better handled with a skilled potters care and understanding. However, with the size of production runs growing, the company will in the future consider more modern casting facilities and robotics. The challenge for business in these older parts of the city is the erratic power supply which can go offline 8-10 times a day. Thus, triple backup of generators is necessary.
My hosts, the plant CEO and managers were most hospitable on the day and very proud of their company and its achievements.
The next day I took a similar ride into the suburbs in another direction to visit the Hindware tapware facility at Bhiwadi. Hindware has been making taps for many years but are looking to significantly grow the business towards 10 million units in coming years. This was a new green-field site in a commercial zone that has improved infrastructure – gas, electricity and water, though there is still some-way to go with roads. The tapware plant is only partly built out at this stage. Current production is running on one floor but there are plans to expand to three other floors as the market grows.
Well aware that it needs modern environmental practices, the new India is building such plants to ensure it maintains a healthy position with global competitors.
The management team was highly educated and use modern western techniques to continuously improve quality and output. Though a western visitor might think the factory looks only partly finished, the culture of India is to get in and start producing as that will create employment. There's no need to wait for the niceties. Because of the access to relatively low-cost labour, the one thing you do notice is the lack of materials handling equipment. There are plenty of available arms and hands and there's no danger of a fork lift running employees down from behind!
In talking later with Rajendra Somany, I got the idea that Indian business was confidently moving forward under their business-centric Prime Minister Modi's agenda.
Hindware has plans afoot to take its brand to global customers, including this region. Some Hindware product was sold in Australia a number of years back under an import arrangement, which has fallen by the wayside.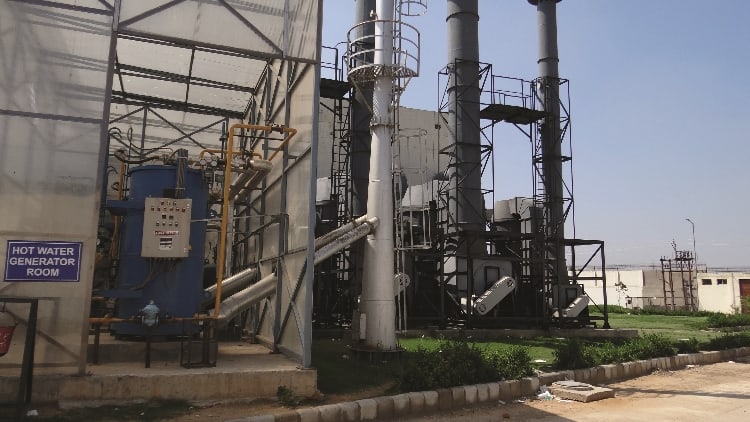 In talking to Rajendra about his plant facilities, I learned that public companies in India have to put aside 2% of their net profit after tax for Corporate Social Responsibility (CSR) activities. In Hindware's case, they use this to support their onsite schools program, medical support services and prayer temples for employees. There is a strong bond between employees and management and you get the idea that a job at Hindware is a prized possession.
In his early years Rajendra learnt to do most of the jobs in the kiln and pottery casting area of the TYWFORDS UK factory, so as to appreciate the various processes. He learnt a saying that supervision is your profit – but to supervise you need to fully understand the tasks.
HSIL is a vertically integrated business and over the years the company has developed the skills to make its own clay mixes, plaster-of-Paris, setting/compunds processes and various other materials and skills that go into china making. As there were few retail hardware outlets at the time, Hindware launched its own bathroom showrooms out of which the majority of product is sold, though new sales channels are developing.
I mentioned that India lacked the usual structures that we are used to, that is no more evident than in the fact there are no Indian trained and certified plumbers but that is about to change.
It is estimated there are around 800,000 employed in the construction sector (33 million workers in total) that do 'plumbing work' – but more than 90% have no professional training. Thus, a number of like-minded people like Rajendra are now running the Indian Plumbing Skills Council, of which he is the chairman.
The aim is to train up 1.2 million plumbers by 2022 as well as have 12,000 trainers on hand to keep the industry rolling. That's some challenge but with someone like Chairman Somany heading the organisation, you can be confident of them reaching their goals. There might even be an opportunity for Australian training organisations to export some of their expertise in this area – watch this space.
For me that was the end of a couple of eye-popping days.
India is gradually gaining its lost dynamism; and the rest of the world needs to stand back and take note.