Plumbers and electricians making a difference
This year, as part of LaserCon, 120 plumbers and electricians from Laser Plumbing & Electrical converged on Centennial Lodge as part of a taskforce project.
The taskforce painted the external buildings, replaced faulty wiring and replaced the aged lights, roofing and shower heads at Centennial Lodge, which is run by the Salvation Army and provides crisis accommodation for up to 50 men, women and children.
All of the rooms at the lodge also received a spring clean, with the work and supplies donated valued at over $105,000.
Captain Cara Brackstone from the Salvation Army said that even four days after the taskforce project she was still amazed at the changes achieved.
"As well as the economic and practical impact, the impact on the morale of both the workers and residents has been inspiring. People are amazed by what was achieved in such a short period of time and overwhelmed by the effort made by Laser and its Members."
The taskforce projects have become an integral part of LaserCon, a three day conference where members meet suppliers, participate in workshops and hear from speakers.
Since 2010, Laser Plumbing & Electrical has provided over $1m in volunteer work and fundraising, with beyondblue being the recipient of fundraising conducted by the company.
Between 2014 and 2016, the Laser Group raised over $250,000 for beyondblue and in the lead up to LaserCon 2017 35 Laser Members from both Australia and New Zealand rode from Melbourne to Cairns. This raised an additional $130,000 for the Australian-based organisation and almost $30,000 for the New Zealand based equivalent, the Mental Health Foundation.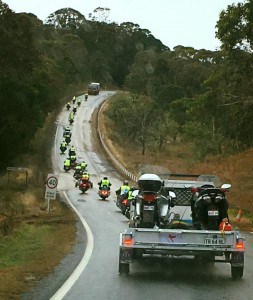 "It's predicted that over 45% of Australians will suffer from depression, anxiety or some other debilitating mental health issue in their lifetime. The stats also highlight that construction workers are more than twice as likely to suicide as other people in Australia. That's our workplace and we're not happy about the numbers, so we're doing what we can to raise funds and awareness by supporting beyondblue," says Laser Group managing director Steve Keil.
Reports conducted by Price Waterhouse Coopers and the National Rural Health Alliance found that those working in construction were more than twice as likely to suicide as other people in Australia.
"As passionate as we are about the work of beyondblue, equally important is creating a culture within our Group that encourages the Members to talk to each other. The most important outcome of the Postie Bike Challenge, the Kokoda Challenge and the Monkey of Your back ride has been the camaraderie built between the Members and that on the ride we get blokes talking, something which we know blokes simply don't do enough of," says Steve.