Here at Plumbing Connection, we like to support Aussie manufacturers in the plumbing sector. Joe Young reports on an Australian family run business that has come from humble beginnings to become a global leader in flow control valves.
It's tough for Aussie manufacturers competing with Asian factories filled with staff working for next to nothing, but Maric Flow Control has shown it can be done and very successfully.
This family-run business based in the picturesque Adelaide foot hills is over 50 years in operation, hiring a small team of Aussie workers manufacturing plumbing products for the global market.
What makes the success of this business even more remarkable is the company continues to grow in sales and exports while now exclusively manufacturing flow control valves.
The company was formed in 1963 by fitter and turner Eric Schroeder, a man with a brain filled with innovation and the hands of a tradesman. He started the business manufacturing the instantaneous water electric heater he had designed.
The Adelaide public responded well to Eric's designs and his heaters soon became a market leader in the area, but Eric wanted to make his heaters even better. He thought if he could maintain a constant flow rate of water, despite fluctuating water pressure, the output temperature could be kept constant.
Applying his rubber chemistry studies background he designed a flow control valve with a precision moulded rubber control ring that responded in size to water pressure. The more pressure, the smaller the orifice and vice versa. This enabled delivery of water at a constant flow rate, irrespective of the water pressure and this in turn provided a simple way of producing water at a constant temperature.
At the time the US was the only country manufacturing such control valves and buying one would cost half the price of a heater.
Eric found the valve's purposes extended beyond integration into water heaters, the water saving benefit of the product was found to be useful in other household applications. In the 1970's the valves were being sold to the hotel and motel market globally.
Today the company is led by Grant Schroeder, Eric's son. He entered the family business in 1987, a tough time in the company's history. The 1980's was a period of sales decline for Maric water heaters and the flow control valves were not yet the market leader they are today. Grant took action, investing in marketing and machinery upgrades, a bold but effective move that turned the fortunes of the business around.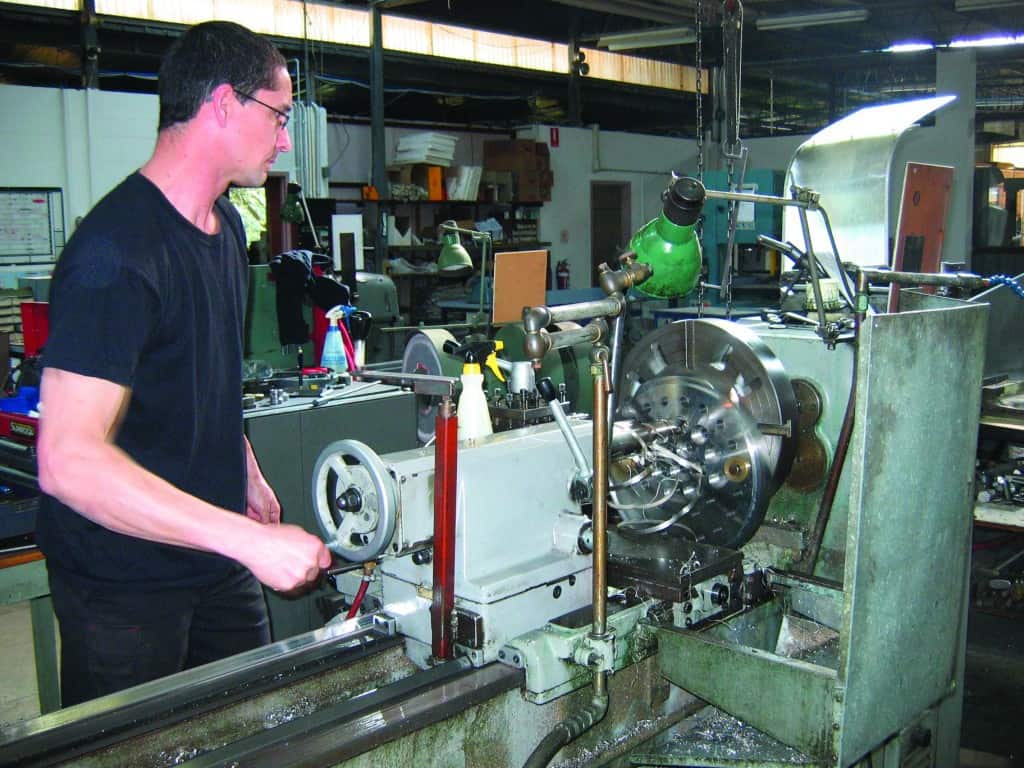 "Most hot water systems Eric used to make are no longer in the market but we've found more and more applications for his flow control valves over the years and that's where the business has expanded," says Maric Flow Control sales manager Graeme Anderson.
"Now we are hardly in the domestic market and mainly sell to the industrial sector. Nearly 50% of our sales are overseas and a high percentage of that is in Europe. Around 40% of our business is in the mining industry."
The valves are used for gland flushing water flow control to protect pumps in abrasive mining environments. Maric supplies aluminium producers in Australia and the US, with notable clients such as Alcoa World Alumina using the recently patented flow control/check valve.
Maric is also a key supplier to industries such as irrigation for farming, pump manufacturing, water treatment and mineral processing operations.
Flow control valve applications are widely varied so consequently the majority of valves have to be tailored to meet each type of customer's needs. While this creates more work for the company, Graeme believes this is a key factor that has enabled Maric to compete successfully against foreign manufacturers which create thousands of the exact same product.
"We have other direct competition manufacturing flow control valves but they tend to either not be particularly accurate or tend to be far more complicated, and no one has the range we have. Most of our competition comes from manufacturers using alternative ways of controlling flow rate and those alternative ways are typically more expensive and not as reliable."
After decades of delivering quality products with a life expectancy of over 20 years, the Maric name in flow control valves has earned a lot of respect in many industries globally.
Created to help heaters maintain a constant temperature, the product is now used in a multitude of ways winning the praise of many hydraulic engineers and plumbers for a design so simple, yet effective.