Built in our own Backyard
In a day and age when everything we buy seems to be stamped with 'Made in China', it's nice to know that some things are still being built in our own backyard. Even more so is when that product is world-class and being exported across the globe to satisfy a very important role. Justin Felix reports on a backflow valve still being built in Australia.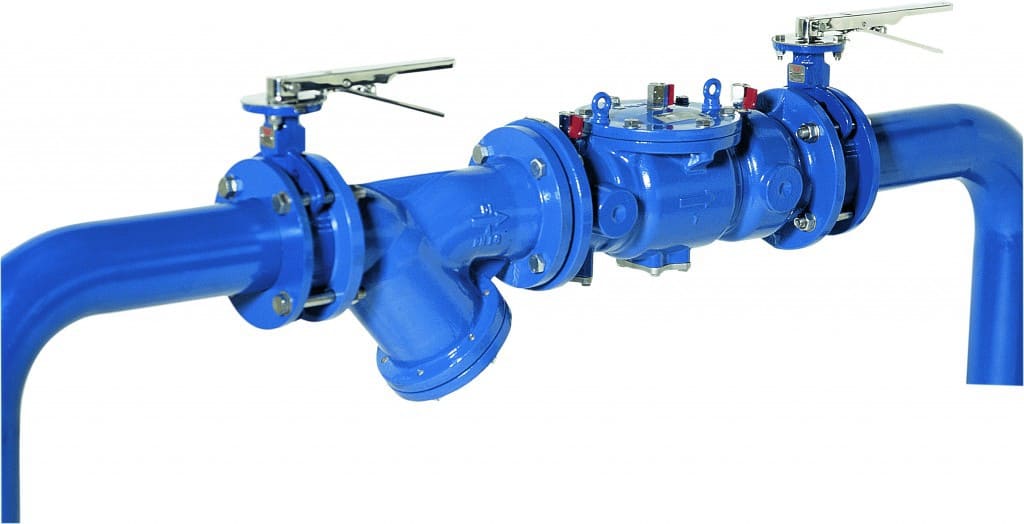 Backflow can be caused by several factors and regardless of how the potable water is contaminated, the effects can be devastating. Backflow prevention assemblies are the best means of prevention and Pentair Valves & Controls is leading the charge with their Australian-made range.
Integrity of the potable water supply comes down to these valves which have the ability to stop the spread of legionella and other destructive diseases that can spread via contaminated water. A correct hydraulic plan and backflow valve can isolate, if not prevent these sorts of outbursts from occurring.
Pentair Valves & Controls has been building backflow and pressure reduction valves since 1988 when it was then named Valvtec Pty Ltd.
"We were approached by the market in 1988 because at the time there was only one brand of product coming in from the US and it was incredibly expensive. We were asked if we would be interested in having a go at making some to satisfy local demand, so the market effectively came to us," Mick Brown, National Product Manager, ValvCheQ Backflow explains.
Prior to designing and building backflow prevention units, Valvtec specialised in building pressure reduction valves and centrifugal pumps so they did possess expertise in related fields. After conducting the appropriate research and developing myriad designs, the first series of valves were released in 1988 and, more importantly, well received by the market.
In March 1998 Valvtec was acquired by Tyco Flow Control and as a result, moved to a new premises and gained access to research & development funds.
"Over a period of years we came up with the 03 model which we still make in Australia and export around the world today. We export our valves to New Zealand, Asia and Europe. Everything else in the market is imported. We're the only Australian manufacturers of backflow valves. We do import smaller components that go into the valves but all of the assembly, QA, testing, engineering and marketing is done here in Australia, particularly at the Eagle Farm manufacturing plant in Brisbane.
The backflow division plant is made up of a dozen employees, three of whom have been with the company since its backflow inception in 1992.
"There's a lot of experience in the manufacturing team and by building a reputable product and creating a good working environment, we've managed to keep our employees loyal. This experience is second to none and is testament to the quality of product we build. Even our newest member has 14 years experience in the industry."
Unfortunately, as Mick explains, "The market has become so commodity based over the past fifteen years, that selling a locally made product no longer carries the same selling power as it did in the early days. Being Aussie-made meant something twenty to thirty years ago. Nowadays, if products are made here and are slightly dearer than inferior valves from overseas, guess what? It becomes a numbers game."
It is a sentiment that resonates across a large number of products and industries in this day and age; however, despite this attitude, the valves are more in demand than ever.
"Backflow valves are a growing area for Pentair with 2014 being one of our best years sales-wise.
"We know where the market is – the Americans swap distributors now and then so the first thing they do is reduce pricing to the market place because they have no experience and technical history, price is all they can offer. We offer a differential – our product is different in terms of performance and materials so we keep the market at a higher level. We find that some customers initially purchase a cheaper valve, but once that valve becomes problematic after 12-18 months they'll come to us for a valve that is trouble free for years to come.
"Yes our product is locally made; however our main marketing pitch revolves around the quality. Some imported products utilise plastic materials that can only withstand 40 degrees while we use stainless steel that can withstand up to 90 degrees. We really promote the performance of the valves as well as the history because we've been in the market for such a long time."
Pentair Valves & Controls make commercial and industrial type valves suitable for all applications including high hazard, medium hazard and low hazard for fire services and the like.
It's understandable that companies are trying to save money but buying inferior products in such a high-risk area can be detrimental to employees and the customers they serve.
"If we don't support the Aussie manufacturers, we could go the way of Toyota, Holden and Ford and have to import everything, which often includes inferior products."
Next time you're on the market for a backflow valve, think Aussie-made.